Thursday, January 3rd, 2008
We're number one - again!
Mercer County has the highest farm income in Ohio for 2006
By Nancy Allen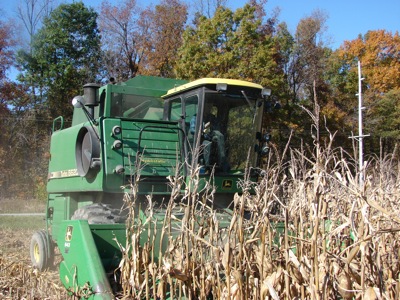 Mercer County retained its No. 1 ranking in farm receipts among the state's 88 counties for 2006, with total income increasing by 2.85 percent from 2005.
The ranking and other county-by-county numbers are available to the public in the 2006 Ohio Farm Income report compiled by the Ohio Agricultural Statistics Service and Ohio State University Extension. It is the most recent data available.
Preliminary figures show that Mercer County cash receipts for all 2006 commodities totaled $320.5 million, compared to $311.6 million in 2005.
Darke County, Mercer County's rival in the past, ranked second in the state with $273.4 million in 2006, a 9.9 percent increase from their 2005 total of $248.8 million.
Mercer County ranked first in income for hogs and pigs ($51.2 million) and first in poultry and other livestock ($137.9 million). Income from livestock made up 79 percent of total 2006 farm income in Mercer County, the report shows.
Wayne County, the area around Wooster, ranked first in income for milk with $87.7 million, while Mercer County ranked second with $47.8 million.
In 2006, Mercer County saw income increase in six of the 11 categories measured - corn, poultry/other livestock, wheat, total crops, total livestock and cattle/calves. Income decreased in the other five - milk, soybeans, hogs /pigs, oats and hay/other crops.
The biggest increase was in corn, which went up 34.5 percent from $23.3 million in 2005 to $31.4 million in 2006. This followed a dramatic decrease just the year prior when corn income dropped 22.1 percent between 2004 and 2005.
The substantial increase in corn income is clearly due to an increase in the market price for corn, said Mercer County Farm Service Agency Executive Director Chris Gibbs.
Local elevator prices for corn went up 84 percent from the beginning to the end of the year; corn was $1.94 to $2.01 per bushel on Jan. 3, 2006, and $3.57 to $3.70 per bushel on Dec. 29, 2006.
The income from total crops went up 11.9 percent and wheat income went up 10.9 percent, which can be attributed to higher market prices for crops overall, Gibbs said. Local elevator prices for wheat on Jan. 3, 2006, were $2.91 to $2.99 per bushel and $4.24 to $4.34 per bushel on Dec. 29, 2006.
Income for milk in Mercer County dropped 14 percent from $55.6 million in 2005 to $47.8 million in 2006, the data shows. Information from the Mercer County Farm Service Agency indicates that a drop in milk prices is likely responsible for the decrease in income. For most of 2006 milk prices dropped to a level that triggered USDA subsidy payments.
Average receipts per farm in Mercer County increased from $249,279 in 2005 to $258,473 in 2006, figures show. Auglaize County, which ranked 11th for total farm income in 2006, saw a slight decrease in average per farm receipts from $99,562 in 2005 to $98,672 in 2006, the data shows. Average receipts per farm in Darke County also increased from $143,013 in 2005 to $158,988 in 2006.
The report says farmers earned more income in 2006 and government subsidy payments dropped 28 percent to $442 million.
Gibbs said a decrease in loan deficiency payments (LDPs) made to farmers resulted in lower government payments in 2006 because market prices increased. LDPs are paid to farmers whenever local market prices drop below government established support prices for commodities.
Statewide income during 2006 from livestock, livestock products and crops totaled $5.48 billion, 6.3 percent above 2005's $5.15 billion.
Income for all Ohio crops reached $3.45 billion in 2006, breaking the record set in 1997 of $3.37 billion. The 2006 total is an 11 percent increase from 2005.
Income from all Ohio livestock and livestock products totaled $2.03 billion, the third highest total of all time. It was just 2 percent below the $2.07 billion record in 2004.
The top five commodities in terms of cash receipts in 2006 were soybeans with $1.16 billion and 21.2 percent of total income; corn with $986.7 million and 18 percent of total income; wholesale milk with $666.5 million and 12.2 percent of total income; greenhouse and nursery with $604.4 million and 11 percent of total income; and poultry and eggs with $469.3 million and 8.6 percent of total income.

Mercer County farm revenue:
Listed below are the farm income receipts for Mercer County, comparing 2006 to 2005, respectively:
Increases
• Corn: $31.4 million, up from $23.3 million
• Poultry and other livestock: $137.9 million, up from $128.1 million
• Wheat: $5.5 million, up from $5 million
• Total crops: $67.2 million, up from $60 million
• Total livestock: $253.3 million, up from $251.6 million
• Cattle & calves: $16.5 million, up from $15.2 million
Decreases
• Milk: $47.8 million, down from $55.6 million
• Soybeans: $26.3 million, down from $27.2 million
• Oats & hay: $2 million, down from $2.4 million
• Other crops: $2 million, down from $2.1 million
• Hogs & pigs: $51.2 million, down from $52.7 million