Tuesday, January 8th, 2008
Area woman escapes as house burns
By Betty Lawrence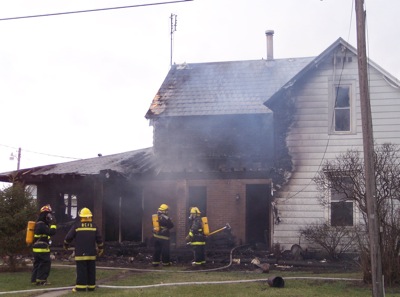 ROCKFORD - Alvin and Helen Buchanan huddled in their van Monday afternoon as they watched their home of 40 years go up in flames. A daughter also watched with them.
"I was just sitting in the patio room when I heard this noise. I grabbed some clothes that were beside me and ran outside," Helen Buchanan said Monday afternoon while watching firefighters fight the blaze. "The smoke alarms were going off then, but I couldn't get the phone to work to call for help."
As Buchanan was running from the house, a passing motorist noticed the fire and called for help. Buchanan, who was not injured, was the only one home at the time of the fire.
Responding to the two-story house fire at 11319 state Route 49, north of Chattanooga, were fire departments from Chattanooga, Rockford, Mendon, Willshire, Ohio City and Berne, Ind. Firemen pumped water from the pond at a neighboring home to battle the fire that was fanned by a stiff wind.
Chattanooga Fire Chief Doug Brehm could not be reached this morning for comment, however, Rockford Fire Chief Ralph Rhodes said there were no reported injuries to firefighters.
"It was difficult for the firemen on the roof, what with that wind. We had 16 men there and stayed about two hours," he said of his department.
The retired couple spent the night at a daughter's nearby home.
The home is insured, Helen Buchanan said this morning. She also said a fire marshal said the cause of fire is undetermined at this time.
"My sister is coming over to help today and my children, to see if there is anything we can salvage from the home," she said. "We didn't get anything out. I'm so thankful I wasn't asleep, otherwise, I don't think I would be here. I had just changed the batteries on the smoke alarms on Sunday."