Monday, February 4th, 2008
Versailles wins Lions Invite
Celina takes third, Coldwater is fifth
By Gary R. Rasberry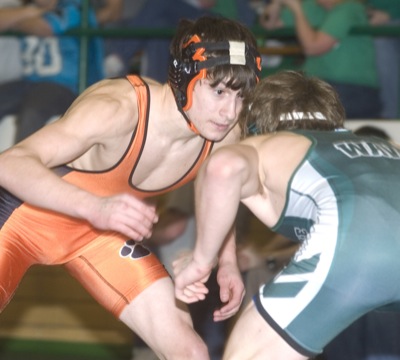 As is always the case, the Celina Lions Wrestling Invitational is one of the more competitive invitationals in the area.
But the Versailles Tigers showed they were a bit ahead of the other schools, capturing the 2008 title.
Versailles placed all 14 of its wrestlers in placement matches, including eight in championship matches, to score 2531/2 points, outdistancing Darke County rival Greenville's second place showing of 1991/2. The host Celina MatDogs took third with 192 points with Fremont Ross taking fourth with 179.
Coldwater finished fifth with 174 points with Delphos St. John's rounding out local competitors with a ninth-place effort with 94 points.
"We just wrestled a great tournament," said veteran Tigers coach Bill Roll. "We had 3-4 kids who were unseeded that got into the finals. We put our whole team in finals. ... It's just a great team effort.
"We just won a lot of tight matches. I think in the fourth round, when seeds wrestled seeds, we never lost a match. Just an outstanding job for our kids."
The Tigers' best win of the night came in the 189-pound title bout as Ethan Oliver looked to defend his title, facing reigning Western Buckeye League champ Steve Stoker of Celina.
After six minutes of action, the two were tied at 1-all. After a one-minute overtime kept things knotted, Stoker chose down in the first 30-second session. Oliver, ranked sixth in the just-released Brakeman Report in Division III, did not allow Stoker to escape. In the second round, Oliver chose down and got free midway through, then didn't allow Stoker to score a point to get the 2-1 win to defend his title.
Oliver's effort, getting three pins in going 5-0, earned the Tiger senior Outstanding Wrestler of the Tournament honors.
The other two Tiger wins came at 140 and 145. At 140, Andy Bruns faced Coldwater's Trent Muhlenkamp. Bruns held off Muhlenkamp's late charge to take a 3-2 win. At 145, it was another Midwest Athletic Conference battle as Derek Oliver beat Delphos St. John's Anthony DeWitt 11-4.
Celina had just one other grappler in a championship bout as Tylor Thees took on Versailles' Joey Brandt for the 125-pound title. Thees edged out Brandt 11-9 to capture the MatDogs' lone title earning Thees his 100th career win.
Celina also had plenty of representation in the other finals, placing seven in third-place bouts and one in a fifth-place bout. Two MatDogs wrestled unattached as part of a JV All-Star team that also made final bouts.
"Real close," said Celina coach Tim Doner of the tournament. "All the teams were pretty even. Lot of great wrestling. Real proud of the kids. Glad we came in third, only a few points out of second."
Coldwater brought home three champions, tied with Versailles for second best after Fremont Ross' five titles.
At 160, Alex Uhlenhake took on Tyler Bey. Uhlenhake dominated to capture the title with an 11-3 major decision.
At 171, Tyler Kunk looked to defend his title, facing Toledo St. John's Taylor Monus.
Despite needing a break to work on his nagging shoulder injury, Kunk followed through, pinning Monus in 4:32 and becoming the only wrestler to win all five of his matches on the day via pinfall. Kunk earned most pins in shortest time honors, doing the feat in 15:08 of action (out of a possible 30 minutes).
The third Cavs title came at 215 as Nick Uhlenhake, who like Kunk suffered his first loss of the season last week at the LCC Invitational, faced Toledo St. John's Jon Mueller. Unhlenhake got two points early and had to fight off a stalling call that gave Mueller a point late before winning 2-1.
The Cavaliers placed eight wrestlers in placement bouts, three in third-place bouts and one in a fifth-place bout.
Cavalier grappler Jarred Kohn also went over the 100-win mark on his career on Saturday.
Coldwater coach Chuck Alig was happy for the effort of his team.
"We just didn't have the depth for this tournament, the kids we put out there did a nice job," said Alig. "They wrestled very hard. We're happy."
For the local teams, conference honors are at stake this weekend.
Celina heads north to Van Wert for the WBL tournament on Saturday. Coldwater and Delphos St. John's head south to Versailles for the MAC triangular.