Tuesday, February 5th, 2008
Indians hold off Cavs for second time
By Gary R. Rasberry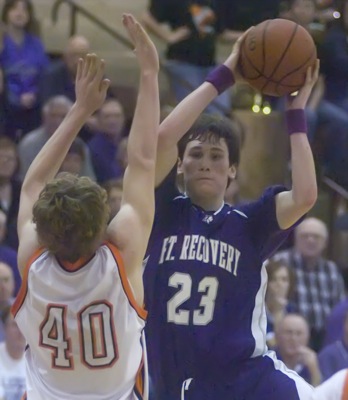 COLDWATER - The second meeting between Fort Recovery and Coldwater proved to be just as exciting as the first meeting at the end of December.
Greg Kahlig's two free throws with 38.7 seconds left in the game held up the rest of the way as the Indians left The Palace with a 49-48 win in Midwest Athletic Conference action for their second win of the season over Coldwater.
The win moves the Indians to 14-4 overall and 6-2 in MAC play and winners of four straight. The loss snaps the Cavaliers' three-game win streak to put them at 10-6 on the season and 4-3 in league play.
The defensive affair, with neither team getting more than seven points ahead of the other, started out strong for the Indians, who went up 8-2 early in the contest before Coldwater came back. Fort Recovery led 21-17 at the half as Coldwater struggled with its shot early, making just 6-of-26 from the field in the first half.
Coldwater picked up the intensity to start the third quarter, getting its first lead with 6:05 left in the quarter at 25-23 when Zach Siefring nailed a three-pointer. The lead changed four more times in the quarter with Coldwater taking a 35-31 lead into the fourth quarter.
"I think that was the key in the second half," said Coldwater coach Mike Kanney. "Our goal was to come after them a little bit, try not to give up many easy ones."
"We knew they were going to pressure us some," said Fort Recovery coach Brian Patch. "For us to have six turnovers (in the game) basically against pressure all night long. I thought our kids executed well and handled the ball."
The Cavaliers worked to build the lead, going up as much as 43-36 with 4:17 left after a lay-up by Ryan Geier before Fort Recovery began to come back. Greg Kahlig was fouled as he shot and made the bucket with four minutes left. The free throw make it 43-39.
After a Coldwater turnover, Clint Tobe nailed a pair of free throws to cut the deficit to two points with 3:24 on the clock. After Siefring made the back end of a two-shot foul to make it a three-point game again, Kahlig was fouled, allowing him to make two more free throws to cut it to a one-point game at 44-43 with 2:47 left.
Following a Cavalier turnover, Clint Tobe nailed a running jumper with 1:45 left to put the Indians up one. Kurt Riethman hit a free throw to tie things up with 91 seconds left and Kahlig put the Indians back up by two with a minute left, only to have Geier nail a three-pointer with 48 seconds left to put Coldwater up 48-47.
The Indians took the ball and looked for the shot. Tobe's try for a bucket missed, but Kahlig was fouled and went to the free-throw line. Kahlig, 3-for-3 already, swished both free throws with 38.7 seconds left to put the Indians up one.
After a Coldwater timeout, the Cavaliers looked for a basket. An alley-oop attempt to Geier was too high, giving the Indians the ball with 9.5 seconds left.
"We knew they had two options: one was to go to (Eric) Lefeld, who's obviously good (or) we figured they go to Geier," said Patch. "Why would you not go to two kids who probably are going to be All-MAC? Geier was beating us on the baseline. ... Our kids were able to read that play."
Rammel was fouled on the inbounds with 7.3 seconds left, sending him down with a chance to make it a three-point game. Rammel, however, missed both tries as Keith Wenning got the rebound and fired down to Siefring, whose three-ball attempt at the buzzer just missed, allowing the Indians to escape with the win.
"Anytime you play Coldwater, it's going to be physical in a good way because they play so hard and so fundamentally sound defensively," said Patch. "They make every offensive battle tough. You really got to struggle to score against them."
"They made some big plays down the stretch and we just did not," said Kanney.
Kahlig finished with a game-high 17 points for Fort Recovery, Tobe scored 16 with Rammel scoring 10.
Geier led Coldwater with 15 points while Riethman added 10.
Both teams are in MAC action on Friday. Fort Recovery welcomes Parkway to Fort Site Fieldhouse while Coldwater plays host to New Bremen.