Friday, February 1st, 2008
Bulldogs finish perfect WBL duals season
By Gary R. Rasberry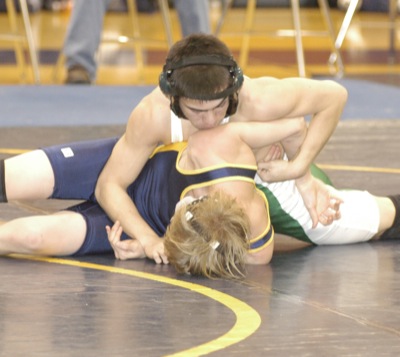 OTTAWA - The Celina wrestling team completed a perfect Western Buckeye League duals season in style as part of a three-team matchup at Ottawa-Glandorf on Thursday night.
The Matdogs finish the regular-season duals season at 9-0, matching efforts from the 2004-05 and 2003-04 seasons.
"I'm real proud of the kids," said Celina coach Tim Doner. "We've had some setbacks this year. The kids really stepped up when we were down or had a guy out with injury. We always had kids stepping up, filling in and making up for whatever reason. Real team effort to finish undefeated.
"They really wanted it. You can tell there was a lot of pressure on them. They were really focused on getting this. We keep reiterating to them that it's not over until the tournament. They have to have a strong showing at the tournament."
Celina opened the night by beating Ottawa-Glandorf in the league match 64-15. Eight of the nine MatDogs' wins in contested matches came via pinfall. Getting pinfall wins were Cody Doner, R.J. Baskett, Joe Bonvillian, Joel Meinerding, Ben Sutter, Alex Dues, Austin Trisel and Mitch Miracle. Tylor Thees got the only non-pin contested win for Celina scoring a 19-8 major decision. Codey Welker and Curtis Doner earned six points each for void wins.
"Our duals in the league have been real solid the past 5-6 years," said Doner. "I don't know what the exact record (the last four duals seasons, not counting 2005-06 when no league duals went toward the league title, Celina is 43-2). It's really impressive.
"I'm really proud of the guys. They've stepped up in practice. Hopefully we can keep everybody healthy through the end of the year."
In the other Celina contest, the MatDogs downed Kansas Lakota 56-19 to complete the sweep on the evening.
Celina is back in action on Saturday, hosting the annual Lions Invitational at the Fieldhouse starting at 9:30 a.m. The WBL tournament is Feb. 9 at Van Wert.