Monday, February 11th, 2008
Celina wins share of WBL crown
By Gary R. Rasberry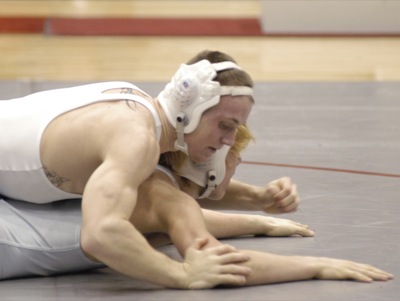 VAN WERT - A slow start nearly derailed the Celina wrestling team's chances for an overall Western Buckeye League title on Saturday at the league tournament at the Cougar Den in Van Wert.
With several key wrestlers suffering losses in their first bouts of the day, it would take a lot for the MatDogs to claim the overall WBL title after completing the duals season at 9-0.
In the end, Celina won enough matches to earn a share of the overall title with Van Wert after the MatDogs finished third in the tournament behind Elida, which won the tournament for the second straight year, and the host Cougars.
For the MatDogs, it's the second league title for the program, the first coming in 2005.
"We're real fortunate," said Celina coach Tim Doner, who shares the Coach of the Year award with Van Wert's Jerry Ramsey. "We had a slow start. We closed the gap there at the end to come up and get a share of it. Tough tournament. Everyone's equal."
Celina's chances took a hit early when Cody Doner, 8-0 in league duals, lost in his opening bout to St. Marys' Sean Barnett. Doner rebounded and decisioned Defiance's Cody Manon 6-3 to finish third. Tylor Thees, 6-2 at 125 this season, lost his two bouts and was eliminated early. Mitch Miracle, the 215-pound runner-up last season, lost in the semifinals and ended up fourth in falling 7-1 to Nathan Brown of St. Marys.
"We had some kids win matches that shouldn't have and had some that didn't win, but should have," said coach Doner. "We talked about that all week long. You can't hang on a loss. You have to come back and score some points for us. (We're) fortunate for that."
Three MatDogs made their championship bouts in their weight class. Freshman Curtis Doner, solid at 103 all season, faced Elida's Jason Hunlock in the title bout. Hunlock, entering the tournament at 30-2, picked up the 6-3 decision to improve on his runner-up showing last season in the division.
The MatDogs got their lone championship of the day at 145 pounds. Alex Dues, who took third last year, made short work in the title bout, pinning Defiance's Terry Wagenhauser in 81 seconds to bring home a title.
"I tried to get it done as fast as possible," said Dues, who raised his record to 23-4 on the season. "I tried to get real smooth with my moves and just get it done quick."
The last chance for a title came at 189 as defending champ Steven Stoker took on 33-2 Cody Wittkamp of Elida. Stoker got the opening point on an escape in the second period, but in the third, Wittkamp earned an escape point. With less than a minute to go, both wrestlers were called for stalling, something that Stoker was warned with earlier, allowing Wittkamp to earn a point. Stoker had several chances to score a takedown, but Wittkamp held off the charge to get the title with a 2-1 win.
Celina picked up several other top-four finishes to get points. R.J. Baskett earned third place at 119 pounds, getting a 9-2 decision on St. Marys' Kevin Falasco. Tyler Temple earned fourth place at 152 pounds, losing 11-3 to Van Wert's Craig Thomas.
St. Marys, 3-6 during the duals season, came up big with three championship bout participants.
Paul Lauth moved up the podium at 171 pounds after finishing third last season, beating Van Wert's Matt Noggle. Lauth, the fourth seed, got an escape in the second period, then countered a Noggle escape try and picked up three back-points before cutting him loose for a point to get the 4-1 win.
"I got a big break putting him on his back," said Lauth, now 26-4 on the season. "That pretty much put him away. He sat out, I was a little unbalanced, so I grabbed him by the chin and pulled him down."
Jordan Price, the top seed at 130 pounds, battled Caden Mauk of Wapak for the title. The pair battled six minutes to a 4-all tie to force overtime. In the extra session, Mauk was penalized, giving a point to Price to get the 5-4 win.
At 285 pounds, Marcus Neal looked to avenge his only league loss to Shawnee's Derek Geiger, but Geiger held off Neal again for the 4-2 triumph to take the title.
Zach Hedrick took third place at 119 pounds, downing Van Wert's Andy Smith 5-0 in the consolation final
The Roughriders placed eighth in the tournament standings with 96 points.
Most of the WBL teams will get a chance to face off again this week at the Division II sectional at Shawnee.