Thursday, February 14th, 2008
Panthers fall to Cavs for second time
By Ryan Hines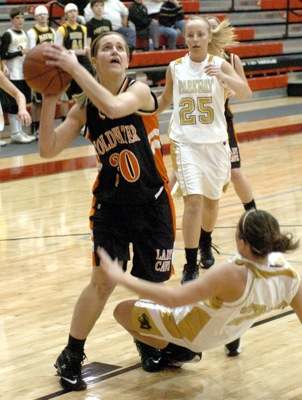 VAN WERT - The Coldwater girls basketball team didn't shoot the ball well, but used a strong defensive effort and a dominating performance on the boards to open the postseason with a win.
Coldwater limited Parkway to just 26 percent shooting and was a plus-14 on the boards en route to a 45-26 Cavaliers win in Division III sectional semifinal action at Van Wert High School.
It's the second time this season that Coldwater (4-17) got the best of Parkway (2-19). The first time the two Midwest Athletic Conference rivals squared off on Nov. 29th, the Cavaliers won 34-32.
In the first matchup between the two Mercer County schools, Coldwater played without Kelley Lefeld (knee injury), but the Cavaliers' 6-0 senior post player made a huge impact the second time around.
Lefeld registered a double-double with a game-high 15 points to go along with 10 rebounds. Fellow post player Kara Uhlenhake scored eight points and added a game-high 11 rebounds.
It was the play of Lefeld and Uhlenhake in the paint that made the difference for Coldwater as the duo pulled down 16 combined offensive rebounds, many of which led to easy buckets.
Parkway head coach Krista Evans realized that Coldwater's 40-26 advantage on the boards was the story of the game.
"They killed us on the boards and it seemed like we couldn't get a rebound if we tried," said Evans. "Lefeld didn't play against us earlier in the season and with her back now, we knew that they would have a rebounding edge and that proved true. Lefeld and Uhlenhake were amazing on the boards tonight."
Coldwater head coach Nick Fisher knew the Cavs had an advantage in the paint and was happy to see his team exploit it.
"The first time that we played them (Parkway) we didn't have Kelley and Kara wasn't playing as well as she is now, so we thought that we could do some things inside," said Fisher. "We thought that we could punish them inside on the boards and in our offensive sets. We established that early and kept it going. Kara does such a good job on the offensive boards because she's always moving and is tough to check out."
The 20 total offensive rebounds helped overshadow the Cavaliers' 33 percent shooting.
"I thought our defense did well," said Evans. "We switched things up quite a bit from zone to man-to-man and pressed some, but it seemed that no matter what we did, we couldn't get a rebound. Our defense was fine, but it was the rebounding that killed us."
Parkway actually started the game strong with five unanswered points in the first 2:30 of play, but Coldwater closed the first quarter with 13 straight points.
"We were taking good shots and they fell early, but then they didn't and Coldwater took advantage of it," said Evans.
Coldwater then went on a 14-3 run in the middle of the second quarter and took a 27-12 lead into halftime.
Parkway scored four quick points to start the second half to pull the Panthers to within 11 points, but an 8-0 run by Coldwater later put the game out of reach.
Coldwater went up by as many as 21 points in the fourth quarter before settling for a 19-point win.
Hannah Harshman scored seven points to lead Parkway while Jamie Guggenbiller canned a pair of treys for six points.
Coldwater will battle top-seeded Wayne Trace on Saturday night at 6:15 p.m. with a sectional title on the line.