Monday, February 18th, 2008
Top seeds get a scare but survive to move on
By Ryan Hines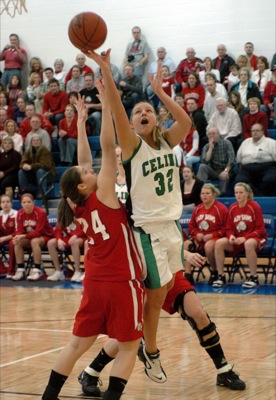 LAFAYETTE - The top two seeds at the Division II Allen East Sectional got major scares on Saturday night, but both came away victorious.
St. Marys started the evening by shaking off a slow start and a 12-point deficit before rallying for a 35-32 win over Shawnee.
Top-seeded Celina led from wire-to-wire, but still needed clutch free-throw shooting in the final 51 seconds of play before slipping past Wapakoneta, 49-42.
Celina and St. Marys captured sectional titles for their wins on Saturday and will begin district action on Tuesday night at Lima Senior High School.
The Bulldogs (18-3) take on Ottawa-Glandorf for the second time in eight days at 8 p.m. following the Roughriders' (15-6) matchup against Lima Bath with tip-off set for 6:15 p.m.
Celina 49, Wapakoneta 42
The seven-point Celina win was no indication of how close the game actually was.
Celina was nursing a two-point lead at 30-28 entering the fourth quarter before a 10-3 run put the Green and White up 40-31.
Wapakoneta responded with a 9-2 run that pulled the Redskins back to within two points at 42-40 with 2:10 left on the clock.
Celina's Candra Francis hit a short jumper that was then answered by a deuce from Wapakoneta's Devon Golden leaving it a two-point game at 44-42 with 50.8 seconds to play.
A pair of Cayla Hellwarth free throws put Celina up by four points and the Bulldogs then benefited from a Wapakoneta turnover with just 26 seconds left on the clock.
Kelsey Waterman then hit two free throws with 20 seconds left to play before Cenzie Yoder hit one-of-two from the charity stripe for the Bulldogs' seven-point win.
"You have to hit free throws at the end of games to win them and we stepped up and made them," said Celina head coach Brian Stetler. "We've been doing that as of late and I guess that's why we've been able to have some success."
"We got it down to two near the end of the game and gave ourselves a chance, but they hit the free throws they had to make and we didn't get a couple of breaks, but that's basketball," said Wapakoneta head coach Brad Rex.
Liz Homan led all scorers for Celina with 16 points while Francis, Hellwarth and Waterman scored eight points apiece.
Heidi Schlegel, who didn't play in the their regular season matchup because of injury, had a team-high 14 points for Wapakoneta while Christy Steinke added 11 points.
Stetler was happy to have advanced to district action, but knows the Bulldogs must play better against O-G if the journey down the tournament trail will continue.
"Give Wapakoneta credit, but we have to play better and rebound better (Celina was beaten by four on the boards by Wapak) than we did tonight to be able to beat Ottawa-Glandorf," said Stetler.
St. Marys 35, Shawnee 32
It was an offensive struggle from the start for the Roughriders, but since the end result was a St. Mary win, head coach Tim Niekamp could joke around after the game.
"I coached the offense for the first quarter and a half and then the assistants took over," said Niekamp with a laugh. "Shawnee was playing good defense and we weren't moving on the offensive end. We went with different sets and I think the girls began to play with more confidence and began to relax more. When we made the quick run before halftime, that's when the assistants took over the offense."
St. Marys will never be mistaken for an offensive juggernaut, but the Roughriders were ice cold for nearly the entire first half.
The Roughriders scored just two points in the first quarter and had five points in the first 15:30 of play on 1-of-20 shooting as Shawnee jumped out in front, 17-5.
However, St. Marys scored eight points in the final 30 seconds of the second quarter and entered halftime down, 17-13.
The Roughriders carried the momentum into the start of the second half as St. Marys capped a 16-0 run, dating back to the first half, by grabbing a 21-17 lead. St. Marys leading scorer Lea Mackenbach, who started the game 0-for-8, hit a pair of three-pointers in the third quarter to put the Roughriders on top.
Shawnee responded with an 11-0 run, helped by a trio of three-pointers, to regain the lead 28-21.
The game of runs went back in St. Marys' favor as the Roughriders scored 13 of the next 14 points in the game to take a 34-29 lead at the 4:00 mark of the fourth quarter.
Shawnee scored the next three points to pull to within two points, but failed to score again in the final 3:20 of the game.
"We made some mistakes that we can't make and expect to win a game like this," said Shawnee head coach Jeff Heistan.
Mackenbach, who led all scorers with 11 points, was proud to see her team overcome the poor start for the win.
"When you get down the way that we did, you have to somehow find a way to get the confidence going any way that you can," said Mackenbach. "We didn't start very well, but we didn't get down on ourselves and we kept fighting and came away with a win. I think that says a lot about our team with the way that we fought back."
Erika Thornsberry joined Mackenbach as the only two players in the game to reach double figures with 10 points, eight coming in the second half.
Samantha Robison scored a team-high nine points for Shawnee on just 3-of-13 shooting from the floor, while Molly Thompson added seven points, all of which came in the first quarter.