Tuesday, February 19th, 2008
Motivation is high on busy weekend for the Celina girls
Strong local group heads to Canton for state swimming
By Gary R. Rasberry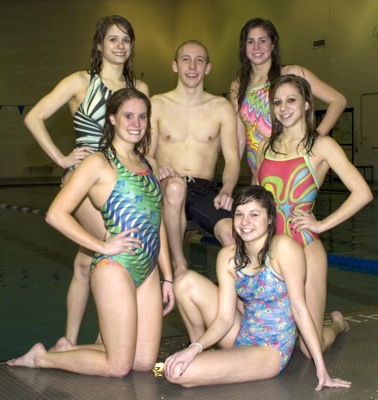 One thing is certain for the five Celina girls heading to the 2008 State Swimming Championships this weekend: It will be a busy weekend.
The WaterDogs will be represented in seven events in Canton, including all three relays.
Last year, Celina had a chance to earn All-Ohio honors in the 400 freestyle relay, but missed by a second to make the final 16.
That feeling of being so close helped motivate the team, says coach Matt May.
"At the end of last season, the girls talked to me and asked how we can get over this hump, where we make it to state and really don't qualify for the finals and never place at state," said May. "We had a discussion about morning practices and morning workouts. We made that switch this year to workouts in the morning. It seems to make the difference. ... It seemed to put them over the edge."
Three-quarters of both the 200 medley and 400 free relays are back again this season with juniors Courtney McKirnan, Kirsten Samples and sophomore Paige Mertz back to swim both relays.
Freshman Ashley Coon comes in to take the spot held by Larissa LaRue last season in the free relay.
Sophomore LaRae Dorsten returns to join McKirnan and Mertz in the medley relay as Coon replaces the graduated Lisa Hertel.
"We were nervous, but we thought maybe we were still in there (for the medley relay)," said Mertz. "Just to see that, it made us more happy because we got to get all three relays in. That's a big accomplishment."
While the 400 relay comes in with the seventh fastest time among the 24 teams, it's the 200 free relay where the ladies are pinning their hopes of a top-eight finish - which would put them on the podium at the end of the evening.
The WaterDogs' district time of 1:40.91 is fourth-fastest and just .58 seconds away from the second-best time of Western Buckeye League foe Shawnee.
"Our 200 seed is top four in the state, so that's what we're really aiming for," said McKirnan. "We have a good chance of making it back to finals in our events and we have good chances of making the podium.
"It feels amazing. It just boosts our confidence. It's going to help a lot going into state knowing we have the fourth-best time in the state," continued McKirnan. "Hopefully, it encourages us to swim really good."
One thing that will be an obstacle is that fact that Celina will be doing a lot of swimming just in the preliminaries on Saturday. In addition to both the 200 and 400 relays, Samples will compete in the 100 freestyle and McKirnan will swim the 100 breaststroke.
Samples, who will also compete in the 50 freestyle on Friday, knows that she could possibly compete in six races - three prelims and if she qualifies, three finals - in a span of less than 12 hours.
"What's going to be tough is that we definitely have a shot making it back to the finals that night. Not only do you swim in the morning, but hopefully again that night," said Samples. "I think we can pull through. We've really been training hard this year and I'm pretty sure we can do it."
Samples is also happy to be in both freestyle sprint races as well.
"I was hoping to make it individually, but never thought automatically, maybe an at-large; but I did in the 100," said Samples, who has the 10th fastest time in the 100. "I was excited to make it in the 50, which was my goal since my freshman year."
McKirnan, with the 12th-fastest breaststroke time among qualifiers, is also glad to be swimming in an individual event.
"It takes it to a whole different level. Relays are one thing, you have to rely on the other three girls, and when you make it as a team, that's really important," said McKirnan. "But making it as an individual is a whole different level. You made it in your own race. It's an amazing feeling."
While Samples, McKirnan, Dorsten and Mertz have been to state before, freshman Coon is making her first trip ever - either as a swimmer or spectator - to C.T. Branin Natatorium.
When asked about her emotions over the weekend in knowing she qualified for the relays as well as the 100-yard butterfly, which takes place on Friday, and in preparing for state, Coon offered three different emotions.
"Very busy, exciting and nerve-wracking," said Coon, who has the 14th-fastest time coming in to state for the butterfly. "It was just the greatest feeling. Working that hard for something and to finally reach it is the greatest feeling ever. That was probably the best day (Sunday, when the state qualifiers were announced) of my life.
"It feels great to fill into that spot and be the next link to the relay," continued Coon. "It's like 'Oh my gosh, I'm going against all these seniors and I'm just a freshman.' "
For Dorsten, who was the rookie last year as a freshman along with Mertz, she's glad to be back.
"We just work well together," said Dorsten. "We react better now that we've been together for a year."

State Swim Meet Schedule:
Friday
Preliminaries 9:30 a.m.
• Division II Girls 200-yard medley relay (Celina: LaRae Dorsten, Courtney McKirnan, Ashley Coon, Paige Mertz).
• Division II Girls 50-yard freestyle (Kirsten Samples, Celina).
• Division II Girls 100-yard butterfly (Lauren Subler, Versailles; Ashley Coon, Celina).
• Finals 6 p.m.

Saturday
Preliminaries 9 a.m.
• Division II Girls 100-yard freestyle (Kirsten Samples, Celina).
• Division II Girls 200-yard freestyle relay (Celina: Courtney McKirnan, Ashley Coon, Paige Mertz, Kirsten Samples).
• Division II Girls 100-yard backstroke (Lauren Subler, Versailes).
• Division II Girls 100-yard breaststroke (Courtney McKirnan, Celina).
• Division I Boys 100-yard breaststroke (Scott Weitzel, St. Henry)
• Division II Girls 400-yard freestyle relay (Celina: Courtney McKirnan, Ashley Coon, Paige Mertz, Kirsten Samples).
• Finals 6 p.m.