Thursday, February 21st, 2008
First half the difference for Celina
By Ryan Hines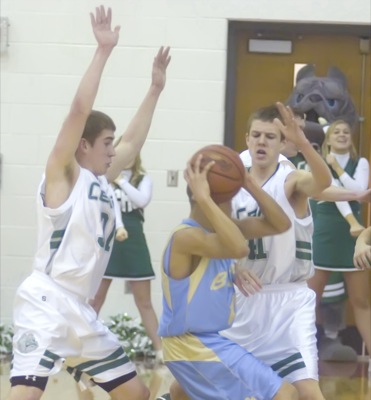 LIMA - For the second time this month, the Celina boys basketball team defeated Lima Bath by double figures.
After an 11-point win at the Fieldhouse on Feb. 1, Celina opened the Division II sectional tournament with a 64-54 victory over Bath at Lima Senior High School on Wednesday night.
"We were a little concerned that our guys might be a little too confident since we beat them earlier in the season, but I checked with some of the guys during school to make sure that they weren't flying too high," said Celina head coach Chris Bihn. "They were grounded and ready to play tonight."
Celina (8-13) will now face Van Wert (14-7) on Friday night at 8 p.m., following St. Marys' game against Lima Shawnee at 6:15 p.m., with a sectional title on the line. The Cougars defeated Wapakoneta 52-44 in the first sectional semifinal on Wednesday.
A strong first half ws the difference for Celina as two different scoring spurts gave the Bulldogs the cushion they needed.
Bath scored the first two points of the night, but Celina then rattled off 11 straight before setting for a 13-4 advantage after the first quarter of play. Jake Green keyed the Celina spurt with six points off the bench.
Then, after a 9-2 Bath run that pulled the Wildcats to within two points at 15-13, Celina closed the second quarter with a 13-4 spurt and the Bulldogs took a 28-17 lead at halftime. Michael Sommer scored six and Derek Gagle added four points during the run.
It certainly wasn't the start that Bath head coach Doug Davis was looking for from his Wildcats.
"We got off to a slow start and I think that it was because of the pressure defense that they were playing," said Davis. "They came out in their man defense and stuck right on their guys and we didn't handle it so well."
Defense played a major part in the first half of dominance by Celina. The Bulldogs forced 10 Bath turnovers and limited the Wildcats to just 6-of-21 shooting from the floor (29 percent).
"We tried to get into the passing lanes against them because most of what they do starts on the wing," said Bihn. "We denied the wing and made them start their offense a little bit higher than what they probably wanted. We put pretty good pressure on the ball and I think that it caused them problems as far as getting into things. We scored off of our defense and did a pretty good jon on that end tonight."
Bath actually outscored Celina 37-36 in the second half, but the first-half hole was too much to overcome for the Wildcats.
"We dug ourselves too big of a hole," said Davis. "We used pressure defense to get back into the game, but took a few shots that weren't great decisions and then they (Celina) took advantage of it."
Bath closed to within seven points on two different occasions in the fourth quarter, including at the 2:18 mark with the score 53-46.
However, Gagle then drilled a three-pointer and the Bulldogs made enough free throws down the stretch to hold off the Wildcats.
It was a strong shooting night in all aspects for Celina. The Bulldogs hit 19-of-24 from the charity stripe and shot 50 percent from the floor (20-of-40, inluding 5-of-11 from behind the three-point arc.
Celina's one-two scoring punch of Sommer and Gagle was more than what Bath could handle. Sommer scored a game-high 22 points on 8-of-11 shooting with a pair of dunks to go along with a game-high nine rebounds.
"If you try to match up with his quickness, he can take you to the block and do some things inside and if you try to match up his size, then he has the quickness to get around the defender and still get to the basket," said Davis. "We don't have anyone that is big enough and quick enough at the same time to matchup with him. He's pretty explosive and a good athlete and it showed in his play tonight."
Sommer had an easy explanation for his big night.
"I just took my open shots and took what the defense was giving me," said Sommer. "I just did what I could to put the ball in the hole."
Gagle added 18 points, on the strength of hitting 7-of-9 from the free-throw line.
Zach Meeks led the way for Bath with 17 points while Matt McKinney added 14 points.