Monday, March 3rd, 2008
Uhlenhake happy to finish in sixth place
By Gary R. Rasberry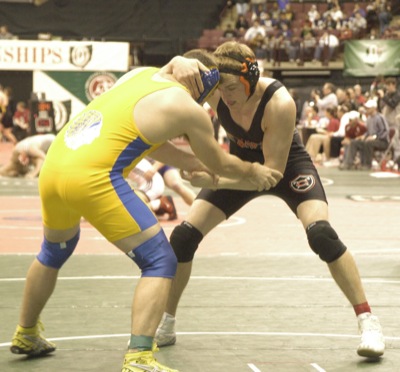 COLUMBUS - Nick Uhlenhake remembers coming to the State Wrestling tournament as a freshman to watch his brother Brian compete for Coldwater.
Four years later, Uhlenhake got his chance, and made the most of it.
Uhlenhake, who broke the school record for wins in a season - a mark that brother Brian shared with Aaron Alig - in the district tournament, concluded his high school career with a sixth-place showing in the Division III 215-pound tournament.
Uhlenhake had a chance for third place as he faced Jake Ewing of West Salem Northwestern in the consolation semifinals. Ewing held off Uhlenhake's attacks to take a 3-2 win sending Uhlenhake to the fifth-place match.
Awaiting Uhlenhake was the guy who handed him his first loss of the state tournament, Ontario's Brock Rickert, who shut out Uhlenhake 6-0 in the championship quarterfinals.
Uhlenhake got the early lead and was up 6-3 going into the final minute, Rickert came back and got a takedown and tried to get back points on Uhlenhake. Despite a strong effort, Rickert got three points for the near fall to take an 8-6 win for fifth place.
"I wanted fifth, but I guess it's okay to be sixth," said Uhlenhake. "The first bout (with Rickert) was 6-0, I knew it was going to take a lot to win that match. I thought I did decently well until the third period."
Holding on to prevent getting pinned did allow Uhlenhake to reach one of his goals: None of his five losses this season came via pin.
"That's one thing I really didn't want," said Uhlenhake. "I haven't been pinned all year and I didn't want to start now in my last match."
Uhlenhake did some pinning of his own during the tournament as all three of his wins came via pinfall.
"All three guys that I pinned came from the same district," said Uhlenhake. "I can't believe I pinned three guys at state. I didn't think that would be possible."
The 215-pound weight class has been solid at state. Four years ago, Kyle Oswalt became the first Cav to place at state in taking fifth, winning a number of his matches in overtime, earning the title "The King of Overtime" for his effort.
"I remember watching him place fifth and thinking I wish I could do that somehow," said Uhlenhake. "It's unreal."
Uhlenhake ends the season at 49-5, breaking the season mark of 45 wins held by brother Brian and Alig, and ends his career with a mark of 110-27.
"That was one of my goals this season," said Uhlenhake of breaking the season record. "I just wanted to beat that. It's a good feeling."