Monday, March 10th, 2008
Dozens take the plunge for charity
Freezin' For A Reason at Grand Lake
By Shelley Grieshop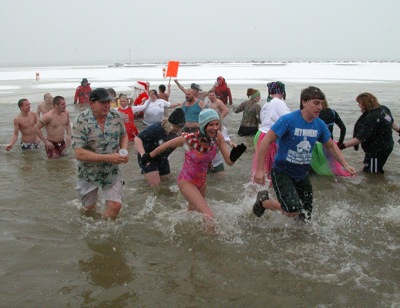 Forty-five brave souls risked blizzard conditions and temperatures in the teens on Saturday to plunge into Grand Lake for charity.
"Freezin' For A Reason 2008" drew hundreds of spectators to the Moose Lodge in Celina and raised $11,500 for Special Olympics Ohio, which provides year-round sports training and competition opportunities for 22,000 adults and children with disabilities.
Many of the participants in the first-ever Grand Lake St. Marys Polar Bear Plunge donned wacky outfits for a pre-plunge costume contest and kept the zany clothing on as they plunged into the slushy lake.
Among the most vocal entries were the "Southerners."
"We be the hillbillies from Louisville (Kentucky)," announced Patrick "Pappy" Staudenheimer, dressed in a raccoon hat, cut-off shirt and tattered cut-off blue jeans held up by a skinny rope.
With a painted-on black eye, his wife, Cindy "Lulu" - a former St. Marys resident - explained in a convincing Southern drawl how her family arrived in town late Friday night to participate in the fundraiser. Wearing blue jean bib overalls and pig tails, she introduced her daughter, Nicole "Tater" and her friend, Ginger "Finger," who are pursuing careers in special education.
Soon the Staudenheimers - who raised nearly $1,000 - were joined by their friend Walter "MacDaddy" McCracken of Dayton, who mooned the crowd a bit later as he waded into the freezing lake.
The local Polar Bear Plunge was sponsored by the Ohio State Moose Association and was the last of nine such events held since January to raise money for the Special Olympics. Organizer Paige Ludwig of Columbus said Saturday's event was by far the coldest and snowiest of them all.
"I just can't believe how many people came out today," said Ludwig, who also drove to Celina on Friday night.
The plungers were a colorful bunch.
Chuck "Chicken" Staugler of Celina wore a barrel around his midsection to mimic a can of chicken and a bra to cover his hairy chest. Don Davis, 49, of St. Marys entered the water wearing a G-string over his shorts.
Bob Springer, 45, of Celina dressed in a Santa suit and made the plunge on behalf of his two grandchildren and 20-year-old daughter, Monica, who died in November.
When asked if he had concerns about getting his Santa suit wet, he replied, "It needs cleaning anyway." The Crown Equipment Corp. employee handed over $189, much of it donated by co-workers, he added.
Nick Hromish sported shorts and a T-shirt and calmed his fear of the icy cold water with a plan.
"I'm going to have a rope tied to my big toe. If I don't move, they can pull me out," the 57-year-old Celina resident said jokingly.
Toting the biggest cash donation was Regis Walter of Middle Point in Van Wert County, who raised $1,600.35. While surfing Web sites last month, he stumbled on information about the fundraiser and decided to sign up.
"I always wanted to do something like this," he said. "I practiced feeling the cold by laying in the snow this morning."
Walter said collecting money was easy. His friends told him, "If you're crazy enough to go in that water, I'll give you 5 bucks."
Wearing rubber socks and black Crocs on her feet, Michelle Harris of Celina said she raised $150 in 45 minutes while at the Moose Lodge the night before.
"I don't know if I'm going under or not, just in and out as fast as I can," smiled the 30-year-old.
Celina High School cheerleader Jessica Ahrns was the only member of her squad able to participate Saturday but proudly handed over more than $300 from the group.
"I'm a bit nervous," said the petite blonde.
Her biggest fear? Tripping and falling, of course.
After the plunge, Celina High School senior Austin Trisel and his girlfriend's brother, Jay Heyne, 13, quickly dried themselves off inside the lodge. Unlike most other plungers, the gutsy youths completely submerged themselves in the frigid water.
"It's a once in a lifetime thing," said Heyne, a middle school student. "Why not?"
Would they consider a re-plunging?
"I'd do it again, but not today," Trisel said with a blue-lipped grin.
The event went off amazingly smooth. Volunteers broke through the lake's ice on Friday and used aerators and a backhoe to keep it from refreezing until the plunge. Celina firefighters were in the water and on shore as safety measures as swimmers entered the water at precisely 1:30 p.m.
Jo Anderson said she was shocked but proud at the number of people in attendance - most of whom were Moose members like herself.
"It just shows their great commitment to such a good cause," she said. "It makes me proud to be a Mooser."