Thursday, March 13th, 2008
Currier & Ives collection displayed in Greenville
By Janie Southard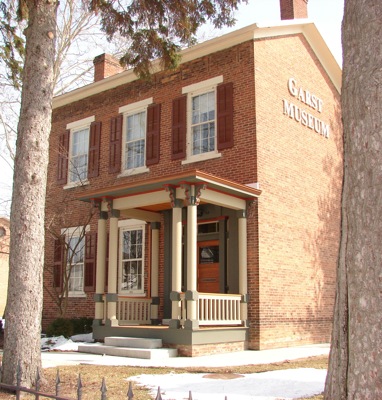 GREENVILLE - History tells us Nathaniel Currier was tall and melancholy yet with the ability to charm almost everyone. James Ives was a pudgy, happy man, a professional bookkeeper and self-trained artist. In the mid-1800s, the two joined forces in producing the lithographs that will be the delight of collectors forever.
Garst Museum in Greenville is currently featuring a collection of Currier & Ives prints including the rare "Husking," along with many others.
"We'll change the display of prints later this year and hang more from our collection," said Kathie Kilgallon, a museum board member, who escorted The Daily Standard on a tour of the museum and specifically the lithographs.
The prints are framed and hang gallery-style on stately display boards running the length of the Lowell Thomas Wing.
Kilgallon explained that Currier got his start with what would later be called photo journalism following a disaster.
It was in New York Sound when a steamboat caught fire and burned quickly almost to the waterline. Currier engaged an artist to sketch the event and a lithograph was made.
"Within a couple weeks copies of the print were out in the community, which was something newspapers of the time could not do," Kilgallon said. "Later he did the same thing after a big hotel fire in New Orleans."
The collection on display now features many prints drawn originally by Frances Palmer. Since printing in color was impossible in those day, all the early lithographs were rendered in black and white. It was Palmer who also supervised the colorists as they colored the finished lithographs.
"She was the first woman to make a decent living as an artist," Kilgallon pointed out.
The prints themselves, created in the 1800s, are still vivid and lively. Some are fascinating for their lush detail and others for their more austere style, an outcome of different artists, different eras, different subjects, etc. Estimates are that the firm produced 7,500 different titles totaling more than 1 million prints.
Currier & Ives, printmakers from 1857 to 1907, produced two to three new images every week for almost every one of those years. Their subjects encompassed nearly all aspects of American life from farming, hunting, horse racing, ships, etc. Their audience was the common family and the prints were priced within the common person's budget.
"These are the kind of prints you'd see on the parlor walls in the working man's home," Kilgallon said.

Garst Museum:
Where: 205 N. Broadway St., Greenville
Phone: 937-548-5250
E-mail: garstmuseum@earthlink.net
Hours: 11 a.m.-5 p.m. Tuesdays-Saturdays; 1-5 p.m. Sundays; closed Mondays, July 4 and Thanksgiving Day
Admission: $5, adults; $3, seniors; $2 children 6-18; free, under 6. Museum members' admission is free.
More info: www.garstmuseum.org