Friday, March 14th, 2008
New Knoxville just one win from history
Rangers rip Raiders in the semis for berth in championship game
By Ryan Hines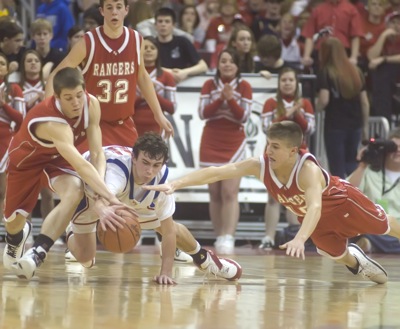 COLUMBUS - For the first time in 61 years, the New Knoxville boys basketball team has a chance to finish what it started.
The Rangers had an 11-point lead at halftime and blew the game open in the third quarter to polish off Wayne Trace 62-41 in the Division IV state semifinals on Thursday night at the Schottenstein Center.
Top-ranked New Knoxville (26-0), which lost in the 1947 state final to Columbiana, now meets third-ranked Worthington Christian (26-1) on Saturday at 2 p.m. in the championship game after the Warriors dismissed Bedford Chanel, 66-58.
The Rangers gave the Raiders fits from the start and Wayne Trace (21-5) struggled to find its confidence the rest of the way.
"That's the best team that we've seen this year," said 33-year veteran Wayne Trace head coach Al Welch. "Their big kid presents a tremendous problem, they all can shoot, they have a great point guard. I thought we would have to play really well to win this game and we didn't do that. They probably caused a lot of that. Sometimes teams are better than you and they were better than us tonight."
New Knoxville was nursing an 8-4 lead with 3:00 to play in the first quarter but grabbed a 16-6 advantage going into the second quarter with a 10-2 run to close the period. Austin Luck and Tony Meyer each canned treys to ignite the spurt.
Wayne Trace scored six of the first seven points to start the second quarter to climb to within five points at 17-12, but New Knoxville closed the first half with an 8-2 run for a 25-14 advantage.
"We missed some early good looks that we really should have made and you have to make those bunnies against a good team like New Knoxville," said Welch. "If you miss bunnies like we missed tonight, you are going to get beat. We should have been in the locker room at halftime down four or five points, but instead we were down 11. That was huge. When we missed those easy shots, our confidence tanked."
New Knoxville kept its double-digit lead for nearly all of the early part of the third quarter and then put the game out of reach by scoring the final 13 points in the period for a 46-25 lead. Austin Arnett had five points while Brad Piehl and Ryan VanderHorst each had four points during the game-changing run.
The Rangers added the first three points to start the fourth quarter to complete a 16-0 run that put New Knoxville in complete control. The lead grew to as many as 28 points in the final few minutes of the game before the Rangers settled for a 21-point triumph.
Welch, who has accumulated 540 wins (17th all-time in Ohio) and was coaching in his final game, was asked to sum up his thoughts on the game to start the postgame press conference and the Raiders mentor gave a blunt answer.
"We were bad, we were real bad," said Welch. "I don't know why, I can't tell you why. I thought that they (New Knoxville) played very hard on defense and caused some problems, but we've seen that over and over. Just had some people for us that had some bad games. Maybe it was the big stage here, I don't know, but we just didn't play normal."
New Knoxville's defense gave Wayne Trace plenty of headaches on each possession and ended up turning the ball over 19 times while shooting just 34 percent from the floor.
"That's not us, this team has turned the ball over less than any other team I've ever had at Wayne Trace," said Welch. "Their defense combined with us losing our confidence were the two big things."
The Rangers were efficient as usual on the offensive end with three players in double figures while shooting 54 percent from the field.
Sophomore Ryan VanderHorst turned the most heads with a game-high 16 points and game-high 11 rebounds.
"Ryan is a very talented young man," said New Knoxville head coach Dan Hegemier. "He's skilled in all phases of the game. You just have to give him a lot of rope and let him play."
Brad Piehl had 13 points, seven rebounds and a team-best five steals while Austin Arnett added 11 points.
It was evident that Piehl enjoyed his experience of playing on the Ohio State floor for the first time.
"Walking out on the floor before the game, it was an empty stadium, and you just had to take everything in. Take a deep breath," said Piehl. "It's a lot bigger than any other stadium that we've played in. Once that gym gets filled, there's no other experience like it.
Aaron Hockenberry led Wayne Trace with 14 points while Alex LaBounty added 10 points and eight rebounds.