Monday, March 17th, 2008
Rangers finish season undefeated, state champs
New Knoxville captures first-ever state championship
By Ryan Hines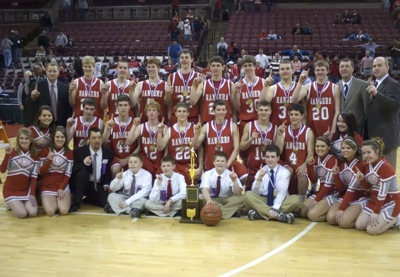 COLUMBUS - A dream season for the New Knoxville boys basketball team came to a peak on Saturday night at the Schottenstein Center in Columbus.
New Knoxville won its first-ever state championship with a dominating performance in a 74-52 victory over Worthington Christian in the Division IV state title game.
"It's very special to me, very special to me," said New Knoxville head coach Dan Hegemier. "We came close last year, but these guys worked so hard this year. It's really satisfying. It means a great deal. Especially when you are in a conference like we are in. When you are in the MAC and you have St. Henry and Marion Local, Minster and Coldwater, we are kind of the little dog in there and now we can hang our heads higher a little bit more.
"When I grew up the 1947 team was all that people liked to talk about, but now they can start talking about another one," added Hegemier.
The Rangers capped a perfect season with their 27th straight win and Worthington Christian had to settle for the runners-up trophy following a 26-2 campaign.
"I thought New Knoxville just played tremendously in every phase of the game - offensively, defensively and they took us out of what we wanted to do. They put five guys on the floor who are threats and they're tough to guard," said Worthington Christian head coach Kevin Weakley. "They just have five guys who flat-out understand both ends of the floor."
New Knoxville followed a familiar formula on the way to the state crown, as a balanced offense and a stingy defense paved the way for the Rangers.
All five New Knoxville starters averaged double figures for the season and all five starters hit for double digits against Worthington Christian.
Rangers big man Brad Piehl led the way for the Rangers with 16 points and six rebounds while D-IV tourney Most Outstanding Player Ryan VanderHorst had 13 points to go along with a game-high nine rebounds and game-high seven assists.
Tony Meyer hit four three-pointers on the way to 12 points while Caleb Allen and Austin Arnett scored 12 and 11, respectively. Rangers sharpshooter Austin Luck also added eight points in the New Knoxville victory.
"We really don't care who shoots the ball, they don't care and they know that I don't care. They want to share it and they do a great job of doing that and it's why we are state champs," said Hegemier. "We just let them play."
"Our balance makes my job easier," said Meyer, the Rangers' point guard. "I can pass it to anyone and they can finish it themselves. Not many teams can have the balance that we have. We all just play hard every single minute."
Meyer was the big scorer early for New Knoxville as the Rangers point guard hit a trio of three-pointers in the first quarter to set the tone for the evening.
"When the first one dropped, I was like, 'This is going to be a good night'. When the second one dropped, I thought it might be a special night. And when they just kept dropping, I was like 'I've got to keep shooting'," said Meyer of his quick start offensively.
Hegemier, coaching in his fourth state tournament (three times with Fort Loramie), liked the aggressiveness of his point guard.
"Tony said that he could drop a couple, so I said go ahead," said Hegemier. "He called his number when we probably should have ran a little more halfcourt offense, but he said coach let me do it and I said okay, you've earned the right to do it. So I let him and he dropped them."
The Rangers hit five-of-six on three-pointers in the first quarter racing out to a 23-13 lead before Worthington Christian got 11 points from Zach Joseph in the second quarter to cut the Rangers' lead to 38-29 at halftime.
The second half was all New Knoxville as the Rangers outscored Worthington Christian 36-23 in the final two quarters of play.
"The third and fourth quarter really did the job for us again, through the tournament the third and fourth quarter have really been the key for us," said Hegemier.
A nine-point halftime lead grew to 16 points after New Knoxville opened the third quarter with a 10-3 run.
The Rangers pushed their lead to as much as 36 points in the fourth quarter before both teams began to empty their benches with the outcome clearly already in hand for New Knoxville.
It was another strong defensive performance for New Knoxville as it held D-IV state Player of the Year Brian Hecker to just four points on 2-of-8 shooting from the floor with four turnovers. It was the first time all season long that Hecker was held under double figures.
VanderHorst was joined on the all-tournament team by teammates Piehl and Arnett while Worthington Christian's Tyler Joseph and Bedford Chanel's Lamar McKnight were also on the team.