Wednesday, March 19th, 2008
Swap could lead to new Celina park drive
By William Kincaid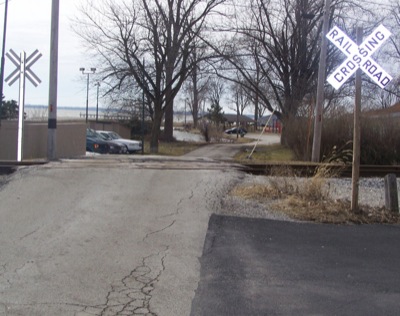 Pullman Bay Park in Celina may be getting a new access drive to replace the dangerous park entrance next to the R.J. Corman Railroad track - a move requiring the city to swap land with property owner Ron Amstutz.
Last week city officials and some council members discussed the land deal during the city's park and recreation committee meeting. City officials have been concerned for some years now about the safety of the park entrance on County Road, located immediately east of the Casey Jones Restaurant on East Market Street.
The proposal, initiated by Community Development Director Kent Bryan, would have the city vacating the south part of County Road and eliminating the railroad crossing. All adjacent property owners already have consented to this possibility, Bryan said.
"The goal here is to get a new entrance drive," Bryan said.
A new driveway for the park would be created off Lake Shore Drive, by acquiring 0.149 acres of property owned by Amstutz.
Instead of purchasing the Amstutz land that some city officials have estimated at $200,000, Bryan has proposed swapping 0.535 acres of city land in the northwest corner of Pullman Bay Park for the Amstutz property.
As part of the land swap deal - which will be brought to city council on Monday - Casey Jones Restaurant property owners John Bertke, Linda Poor and Lois Spohn would get all of the vacated County Road south of Market Street. Each person would receive an undivided, 1/3 interest.
Amstutz would acquire all of the vacated County Road south of the R.J. Corman Railroad track, and Celina Wine Store, which owns Pullman Bay Restaurant, would get a 0.039-acre parcel of Pullman Bay Park near the restaurant.
Bryan also said the deal could help Celina get flashing lights and signals for the railroad crossing near Schunk Road, where the current bike path ends. R.J. Corman Railroad wants to see crossings like County Road close because of liability, therefore, Bryan said he thinks they would work with the Ohio Rail Development Commission to provide an incentive - safety lights and signals at Schunk Road.
"When you close a crossing like this, the railroad company loves it," Bryan said.