Monday, March 24th, 2008
A brush with success
By Shelley Grieshop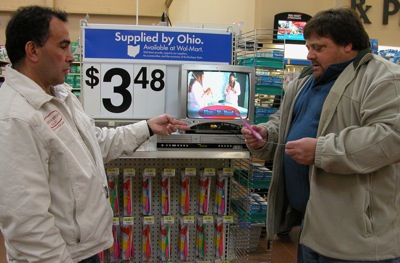 Ricardo Macias thought his co-worker looked silly with a toothbrush hanging out of one shirt pocket and dental floss tucked in the other.
What the guy really needed for his pearly whites, Macias thought, was an all-in-one toothbrush that held floss. The idea stuck in his head and got his creative juices flowing.
"I decided I was going to investigate this; maybe I could put something together," says the 49-year-old Ansonia resident.
It took a year, a seemingly endless battle of red tape and a mountain of expenses before the first "Floss-N-Brush" toothbrush became reality, says the rookie entrepreneur, whose invention is patent pending. Recently, the trademarked brushes began selling in independent pharmacies, hospitals and numerous "mom and pop" shops across the country.
Last week, Ole Fort IGA in Fort Recovery and Wal-Mart Supercenter in Celina began stocking their shelves with the brightly-colored packages that bear the business' Ansonia address on the back.
Macias' crusade to build a better toothbrush began with a rough prototype he carved on Christmas Eve a few years ago. He scaled down a regular toothbrush, hollowed it out, shortened it a bit and added some rolled-up floss near the base of the handle.
"I remember telling myself, 'This could really work,' " he says with a smile.
The toothbrush, which comes in five colors, has 50 yards of floss tucked inside the handle. It's enough to last 90 days or the length of time a toothbrush is to be used before being replaced, according to the American Dental Association.
Macias knew from the start his pockets weren't deep enough to hire the numerous attorneys, engineers and moldmakers needed to fulfill his dream. Searching for an investor and partner, he contacted his friend, Greg Byrd of Greenville.
"We knew right away it would be too costly to build them here. We had to look elsewhere for manufacturing," says Byrd, a multi-housing property owner who guided Macias every step of the way.
Although it's more expensive to keep the production of the toothbrushes in the U.S., the men feel it's important to keep jobs on American soil. So currently the item is manufactured in Tennessee and Chicago; the bristles are made in Philadelphia from the same company tapped by top-selling brands.
Byrd said local Wal-Mart manager Chris Carroll was instrumental in helping place the item in the sprawling Supercenter by involving the men in a local vendor program. No other Wal-Mart manager gave them a chance, they say.
Even with Carroll's help, it took a year before the first shipment was given the OK.
"My district manager had to approve it and then the corporate," Carroll explains.
If sales are good in Celina, the toothbrushes likely will be placed in other area Wal-Marts, too, Carroll adds. Macias and Byrd also are currently negotiating with Target, Walgreens and Cosco.
Until a recent lay-off, Macias continued to work at his job at the Fram auto parts plant in Greenville. He hopes his invention leads him to an early retirement from the factory floor and more time with his grown son and daughter and two grandsons.
"If this is successful, I'll probably stay at home in Darke County until the snow flies, then go to Florida. I want to go fishing and jogging - I like to keep healthy," he says, adding he faithfully uses his Floss-N-Brush daily.

Ohio inventors:
We all are inventors, experts say. Built inside each of us is the potential to invent and create, according to Paul B. MacCready, an expert on the subject.
Several years ago at the Lemelson Center in Washington, D.C., where inventions and innovations are studied, MacCready made this observation during a speech:
"The spark of creativity can be smothered or fanned into flame. The potential is genetic and we all have it; its nurturing determines its strength. ...Motivation, preparation, opportunities, positive attitude, teamwork, fun, daydreaming, perseverance and luck are among the key factors."
Ohio is the birthplace of many famous inventors like Thomas Edison of Milan and the Wright Brothers of Dayton. Others include: John Lambert of Ohio City, creator of the first gas-powered, single-cylinder automobile in America in 1890; Garret Morgan of Cleveland, who built the first traffic light in 1923; and James Ritty of Dayton, who constructed the first cash register in 1878.
And don't forget Joseph Oppenheimer of Maria Stein. He invented and produced the first mechanized manure spreader in 1899, which was sold at the former New Idea plant in Coldwater.
- Shelley Grieshop