Friday, March 28th, 2008
Versatility makes Meyer the top player in Grand Lake area
Dream season for Hegemier, New Knoxville
By Gary R. Rasberry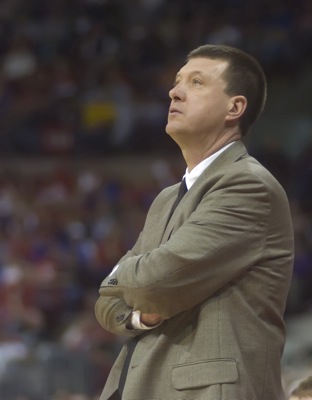 It's appropriate that the lone unbeaten boys team in Ohio swept a pair of honors for the Grand Lake all-area basketball team.
New Knoxville point guard Tony Meyer and Rangers coach Dan Hegemier were easy choices for The Daily Standard's Boys Basketball Player and Coach of the Year honors in guiding the Rangers to their first-ever state team title in school history.
Meyer, a three-year letterwinner and two-year starter at point guard, was an all-around player for the Rangers, being among the leaders in scoring, leading the area in assists and steals while hitting nearly 60 percent of his three-pointers for most of the season. Meyer averaged 12.1 points, 5.1 assists and 3.5 steals per game during the regular season and was among the area leaders in both field goal and three-point shooting percentages.
After a 2006-07 campaign that saw the Rangers lose their only game of the season in the regional final, Meyer was determined to help his team get back this season.
"This summer after we hit basketball camps, I was pretty confident coming into the season," said the senior. "With all the guys graduated, we still had some of the guys who played last year coming back. That gave us more experience. I thought we could do well. I didn't think we'd go undefeated, but it was a nice plus.
"I thought we could do it (go undefeated), but I didn't think we really would, but there was always that chance we would. As the season started going along, it was like 'We could definitely do this now. We can do this if we keep playing like we are.' "
After dominating teams throughout the season, and having a number of games in hand midway through the third quarter, the Rangers cranked it into overdrive in the postseason, averaging 66.7 points offensively while allowing just 41.1 points per game.
"Our defense definitely made that happen," said Meyer. "We always practice on our pressure defense. We knew if we scored 60-70 points that we would be able to just beat people. That was our main goal: to keep them to under 40 points."
In bringing back the first team state championship to the Auglaize County village, Meyer is proud of being part of the mission.
"It's pretty amazing. We dominated how we played. It was fun playing every single game. Practice was fun because we worked hard and competed with each other," said Meyer. "Our competition level was so much higher and it was fun to compete at that high level.
"Now that it's over, it's pretty sweet to bring home a state championship to New Knoxville. You get people every single day that you never talked to before and they would just stop by and thank you for bringing a state championship home. That's nice to hear."
Hegemier guided his team to a 27-0 record - the only unbeaten boys team in the state - and 52 wins out of the last 53 games with the run toward the 2008 state title. A New Knoxville graduate, Hegemier took his program to state for just the second time in 61 years.
"The 1947 team (which went 27-3 and was the Class B state runners-up), you grew up hearing about them," said Hegemier, who previously guided Fort Loramie to state titles in 1987 and 1993. "You got to see the players (picture) on the wall. It was something I know, when I played, that we aspired to do. You have to have a little luck, you have to stay healthy and you have to have talent. Knoxville has had some good teams and some great teams, but just couldn't get over the hump.
"This year, I don't know if it's karma or what, we just didn't have a close game. I told people the last four games were just too easy due to the fact that a lot of times, you're going to have a nailbiter type of game. The last four games, we didn't."
Even with the experience coming back this season, Hegemier said he wasn't expecting the run his team made.
"We lost 42 points (per game) with the kids we graduated. All good players," said Hegemier. "We lost the Division IV Player of the Year in Ross Stienecker (now at Ohio Northern), Josh Niemeyer, Mitch Kellermeyer and Marcus Henschen. I knew going in we would be good, but I never expected us to be that good."
One thing Hegemier stressed and received from his team was unselfish play. Five players averaged double figures through the season. In the state championship game against Worthington Christian, the team recorded 18 assists.
"When we start our offense, we try to run the floor and try to get the open look right away, a lot of it goes back to the kids that shot the ball were open," said Hegemier. "We didn't have many people force shots. Sometimes when we got the ball inside, I really had to emphasize to Brad (Piehl, the Rangers' 6-7 center) to force the shot up. That's it. We just didn't have guys make a lot of tough shots because they were unselfish, pass the ball to the open man and our kids knew what a good shot was."

2008 Grand Lake Area Boys Basketball Dream Team:
Guard-
Tony Meyer,
New Knoxville
12.3 points
5.1 assists

Guard-
Josh Fisher,
Parkway
17.2 points
41 3-pointers

Forward-
Greg Kahlig,
Fort Recovery
17.3 points
6.5 rebounds

Forward-
Brad Piehl,
New Knoxville
15.0 points
6.2 rebounds

Center-
Scott Schnelle,
New Bremen
17.1 points
10.6 rebounds

6th Man-
Jordan Thompson,
Parkway
15.3 points
10.3 rebounds

2008 Grand Lake Area Boys Basketball Dream Team Second Team:
Guard-
Ryan Geier,
Coldwater
12.6 points
6.2 rebounds

Guard-
Derek Gagle,
Celina
17.2 points
5.1 rebounds

Forward-
Jordan Winner,
Marion Local
14.5 points
7.1 rebounds

Forward-
Michael Sommer,
Celina
15.7 points
7.5 rebounds

Center-
Logan Sommer,
Minster
13.8 points
6.7 rebounds

6th Man-
Ryan VanderHorst,
New Knoxville
11.5 points
5.2 assists