Wednesday, March 5th, 2008
Middle two quarters propel New Knoxville
By Gary R. Rasberry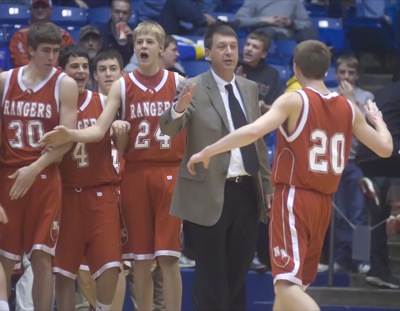 DAYTON - What looked at the beginning like a classic battle turned out to be another night of domination by the New Knoxville Rangers.
The unbeaten Rangers advanced to the Division IV University of Dayton Regional finals with a 79-41 drubbing of Houston at the UD Arena.
New Knoxville (24-0) now plays Cincinnati Seven Hills (23-1) on Friday at 7:30 p.m. for a berth in the state final four. Seven Hills beat Lockland 40-37 in the nightcap.
The first eight minutes of the game might have had some fans thinking shootout as both teams went to their big guns.
New Knoxville went to 6-7 center Brad Piehl, who connected on all four of his shots in the opening quarter. Houston countered with Dan Estes, who also was 4-for-4 in the quarter, making a pair of three pointers as the lead changed six times in the first quarter.
That all changed when Austin Luck came off the bench for New Knoxville. The Rangers' designated three-point bomber nailed a trey with 33 seconds left in the first quarter to put New Knoxville up 18-15.
"First quarter, I thought we were guarding them, but we didn't do a good enough job guarding Estes, a fine player who was dropping big shots on us," said Rangers coach Dan Hegemier. "I just told them to stay at it."
Luck's bomb set the Rangers into runaway mode, starting a 16-0 spurt that put New Knoxville well in control at 31-15. The Wildcats went nearly five minutes before getting a basket as New Knoxville outscored Houston 21-6 in the second quarter to take a 39-21 lead at the half.
"It seemed like we were worn down," said Houston coach John Willoughby. "They got a couple breaks on us. They threw it over us. When we weren't scoring, our heads just fell and we weren't executing very well. Have to give the credit to New Knoxville."
The Rangers did not miss much in the first half, hitting 16-of-23 field goal attempts (69.6 percent) and 4-of-8 from behind the three-point line.
"We started by getting the ball inside to Brad Piehl. He's been playing very well for us. He drops some big shots to keep us in the game," said Hegemier. "Then we just started running. ... Then Austin Luck came in. I don't know how many threes he made. ... When people started doubling on Brad, (Luck) was wide open at times."
New Knoxville did not waste time in hammering down the final nails of the coffin in the third quarter, outscoring the Wildcats 25-7 as the Rangers' defense turned Houston turnovers into points. The Rangers scored 28 points off turnovers in the contest.
"They're the best defensive team I've coaches against," said Willoughby. "They pressure the ball well, deny it well and help out so well. Tough team to score against."
Luck was 6-of-10 from beyond the three-point line en route to sharing high-game scoring honors with Piehl scoring 18 points. Caleb Allen added 17 with Austin Arnett scoring 14. While shooting 64 percent (32-of-50) from the field is a major key, the fact that the Rangers recorded 25 assists in the game was something that Hegemier was proud of.
"The thing I think is special is that they're unselfish," said Hegemier. "I don't really have to call timeout to say 'Boys, don't play My-Turn-To-Shoot.' Pass, cut, pass, cut, pass, cut. We really didn't run a whole lot. We just ran the floor and looked for the open man."
Estes paced the Wildcats with 17 points and Dustin Schwable added 10 points.