Friday, March 7th, 2008
War brings bride to Celina
By Margie Wuebker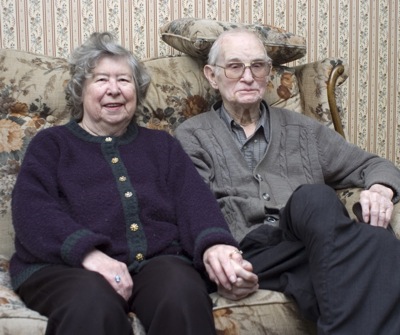 Gwenda Wenning sits in her West Oak Street family room in Celina looking through colorful magazines from her native England and sharing experiences that led to her becoming a war bride.
She met her husband Werner Wenning outside a British theater while waiting with a girlfriend for the doors to open. They had tickets to the sold-out performance, but the two American soldiers behind them were not so fortunate.
"We came out after the performance and they were waiting for us," she recalls with a still recognizable British accent. "That proved to be the beginning of a long story."
Werner, an Army infantryman during World War II, returned to the front after his Battle of the Bulge wounds healed. Their courtship involved lots of letters and few dates. The letters continued after he returned to the States and Gwenda finally agreed to come for a visit.
"I had no idea what America might be like," she says. "I think many of the thousands of British war brides thought it would be somewhat like the old West depicted in so many movies."
Gwenda did not come over on the Queen Mary like thousands of war brides and prospective brides. Employed as a civilian wireless operator for the Royal Air Force, she managed to purchase a plane ticket and came to America in April 1946.
She landed in New York City, placed a call to Mercer County and then waited for Werner to arrive. However, she had no concept of the distance he had to drive.
"It was Easter Sunday and what really impressed me were the hats; so many beautiful hats and gorgeous dresses. I had no idea that clothes could be so beautiful as I hadn't been able to buy any clothes for five years. The variety and quantity of food served in the restaurants was like a dream from which I prayed I would not awaken. Unfortunately I was able to eat very little of the delicious food as my stomach was used to only small meals."
The British endured strict wartime rationing. Wenning remembers her mother coming home with two bags, neither of them full. Her father looked at the contents before announcing "I believe I can manage with that amount." Her mother tearfully explained the food was to serve the family of six for an entire week.
Gwenda rattles off the weekly amount each person received - 8 ounces of meat, 4 ounces of sugar, two ounces of lard, two ounces of butter, four ounces of tea and one egg. Small quantities of flour and cereal were doled out if available and each household received a half pint of milk daily. The type of meat depended on what the butcher had available and she recalls some peculiar cuts as well as liver and beef heart.
Patches of ground in and around England were quickly turned into vegetable gardens and Wenning remembers picking berries from hedgerows during visits to the country to help at an aunt's orchard. Relatives pooled their sugar allotment for making jams and jellies.
Her first impression of Mercer County was that it was very flat with huge fields and large barns. Coming from a country where people lived in stone or brick houses, she was amazed to see many built of wood. After living in London with a state of constant activity, the countryside seemed much too quiet.
"My future husband was living with his father on their farm," she says. "I had no desire to be a farmer's wife. During the next few weeks I met many of his extended family and learned a wealth of family history and a lot about this young man. I must have been impressed as we set the wedding date for the next month. To make ours a successful marriage, it was necessary for both of us to compromise, blending the best of diverse cultures."
Thankfully, she could talk and commiserate with other war brides in the area. They forged a friendship that rivaled sisterhood.
Three years or so after her wedding, Gwenda took a train from Van Wert to New York City, where she boarded the Queen Mary for her first trip back to England. She and Iris Wilson, who had married a soldier from Rockford, shared a stateroom during the five-day crossing.
The two women and Wilson's 2-year-old son stayed in a small tourist class room equipped with twin beds and a crib. They had access to such amenities as the dining room, library, writing room and swimming pool, thoroughly enjoying what she calls "impeccable service" no matter the level of accommodations.
"Occasionally Iris and I would sneak up to first class and to see how the wealthy folks lived," she says with a chuckle. "We were like wide-eyed school girls."
Gwenda had an opportunity to stay on the ship again last summer while in California for a wedding.
"It is now a very fine hotel in Long Beach," she says. "Changes have been made over the years. However, you can alter the interior but not the decks."
The mother of three, grandmother of eight and great-grandmother travels back to England from time to time. She takes along family members to show them her beloved homeland.
"England will not let go completely," she says. "My roots go deep into my British heritage even though I have been here for so many years. I love to go to London but I look forward to coming home to Mercer County."