Saturday, March 8th, 2008
Tigers shake feeling of underdog quickly
By Gary R. Rasberry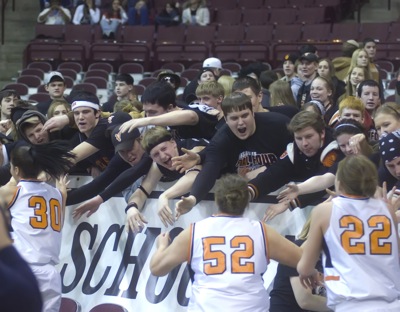 COLUMBUS - Earlier this week, Versailles girls basketball head coach Jacki Stonebraker said that her team had the feel of an underdog against five-time state champ Regina.
That feeling quickly passed on Friday.
The Tigers took control in the second quarter and never looked back, advancing to the Division III state championship game with a 75-60 win over the Royals at the Schottenstein Center in Columbus.
Versailles, the lone undefeated of the teams at state, plays Sugarcreek Garaway in the title game tonight. The start time has been pushed back to 6 p.m. The first three title games had their start times pushed back due to the hazardous weather, with action beginning at 1 p.m. today rather than 10:45 a.m.
Garaway (25-2) defeated Riverdale 45-28 in Friday's other Division III semifinal.
"What we were feeling before the game was a lot of emotion from last year," said Stonebraker, referring to the Tigers' 51-39 loss to eventual state champ Cleveland Central Catholic. "We had worked so hard the last 12 months. We knew we just didn't want to be back here. We wanted that championship. We have one more game to get that championship. The girls just played like champions today."
"First of all, I want to give credit to Versailles for executing a great game plan," said Royals coach Pat Diulus. "I don't think there was any surprise, as far as we were concerned, except they out-executed us. There's no other way to describe it."
The Royals looked to get off to the perfect start in jumping out 4-0, but the Tigers quickly came back to tie things at 6-all. A late surge by the Royals put them up 11-10 after the first quarter.
The tide began to turn fully for the Tigers when trailing 19-16 with 5:27 left in the first half as Versailles went on a 6-1 run to take the lead at 22-20 with two minutes left after a pair of Emily Bohman free throws. Laura Schlater, brought up from the junior varsity for the tournament run, put the Tigers up four at 26-22 at the half.
"She made a big shot to send us into halftime with the momentum we had," said Stonebraker of Schlater, a sophomore. "Defensively, she really stepped up because she had to guard Shay (Selby). She did an amazing job for not having as much court time as we would have liked her to see."
"I can't really explain it," said Diulus. "I thought we were well-prepared. We had good practices, had a good walk-though this morning. We knew what to expect. There were no surprises."
Schlater's bucket was the spark the Tigers needed for the second half. Bohman and Justine Raterman each got a bucket to put the Tigers up 30-22. The Royals would get as close as three points at 32-29 when Hillary Southworth nailed a three-pointer, but Versailles pushed the lead to 42-33 at the end of three quarters.
"They just outcoached us, outplayed us, whatever," said Diulus. "It was just a sound beating, something we're not used to."
The fourth quarter was a frenzy with Regina scoring nearly as many points (27) as the Royals scored in the first three quarters (33). The Tigers shot 27 free throws in the second half, making 21.
Versailles' 26 made free throws - out of 33 attempts - broke the state Division III semifinal record, betting the 25 made by Wyoming in the 1995 semifinal.
Raterman and Bohman, who went over the 1,000 point mark with her first basket of the game, each had 27 points in combining to go 17-of-28 from the field. Raterman added 19 rebounds, breaking the Division III semifinals record of 18 held by Jonathan Alder's Lauren Prochaska in 2006.
Division III Player of the Year Shay Selby was held to 16 points. Regina center Mercedes Mitchell led the Royals with 19 points and eight rebounds while Emily Hoscilowicz added 10 points.