Thursday, April 10th, 2008
Inquiring minds quiz the pope
By Shelley Grieshop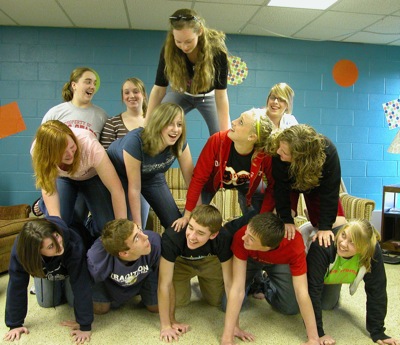 If area youths were granted a one-on-one interview with Pope Benedict XVI, what would they discuss?
That's the question The Daily Standard posed to several area high school students as a prelude to the papal visit to the U.S. next week.
Ashley Pottkotter, a 17-year-old St. Henry High School student, would like to know what the pope plans to do about nonpracticing Catholics - an issue she feels is slowly deteriorating the religion.
"The Catholic religion is diminishing because a lot of people are not active in their faith," Pottkotter says. "Everyone is so busy with their own lives that they don't take the time they should for prayer and Mass."
Speaking for her age group, she believes the younger generation considers church an inconvenience and would like to know how Pope Benedict plans to entice them back.
Tenth-grader Jessica Feltz of New Bremen is more interested in the personal prayers of the pope - the leader of the world's largest Christian church.
"I would love to ask him what he prays about," she says. "Does he pray about world issues, or church issues, or just issues he himself faces?"
While listening to a recent sermon about prayer during Mass at Holy Redeemer Catholic Church in New Bremen, a variety of questions came to mind, Feltz says.
"Is the pope's motive for prayer any different than ours?" she asks, adding she also wonders how he prays and if he has a special way of speaking to God.
Although she's curious about the pope's intent, Feltz doesn't expect him to magically insure her future or that of others her age.
"I think youths should be more involved with the issues of the world ... We have surprisingly very good ideas at times that could help and if the pope got youth involved more, I'm sure great things could be accomplished," Feltz adds.
Grant Thobe, another sophomore at New Bremen High School, would like to hear the pope speak about the positive things young people do. He's tired of hearing about the negative, he explains.
"I would hope the pope would talk about the good," he says. "Often, as teenagers, we become stereotyped and told not to do things ... Hopefully, a talk on the good (things youths do) will help people lighten up."
At a time when a lack of priestly candidates is plaguing the Catholic church as well as other religious denominations, Kyle Knapke is interested in knowing what led Pope Benedict to serve God. The New Bremen High School junior asks: Did he always know he was called to be a priest and was it easy to accept the calling?
"It's not the most popular/normal thing to come out and say, 'I want to be a priest,' " Knapke says. "I'm assuming there had to be pressure somewhere that caused him to double guess himself."
Knapke believes there must have been some type of power that brought the pope to his status today.
"What was the driving force behind your decision to become a priest?" is the question Knapke said he'd propose if given the opportunity to speak to the pope in person.
The pope will be arriving Tuesday to spend six days in Washington, D.C., and New York City to spread a message of hope and celebration. The official reason for his visit is to honor the bicentennial of the nation's five oldest dioceses in those cities.
Pope Benedict is expected to meet with President Bush, speak at the United Nations and celebrate Mass at Washington Nationals Stadium and Yankee Stadium. He also will visit Ground Zero in New York City, meet with representatives of other religions and pay a brief visit to a Jewish synagogue before departing for Rome the evening of April 20.
The United States has the third-largest Roman Catholic population in the world with 67 million members.