Friday, April 11th, 2008
Roughriders win their second straight game
By Mark Ruschau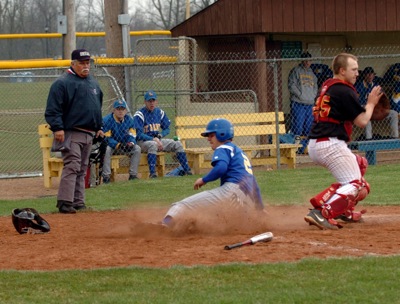 ST. MARYS - The St. Marys Roughriders rode a solid pitching performance from Jake Taylor and timely hitting to a 3-2 non-conference win over the New Bremen Cardinals on Thursday afternoon at a rain-soaked K.C. Geiger Park.
With its second win in a row, St. Marys improves to 2-4 on the season while New Bremen's loss was its second in a row after opening the season with two victories.
St. Marys got to New Bremen starting pitcher Cory Barlage for a run in the third. With two outs, Tyler Norton doubled and came home on a single by Justin Frey to open the scoring.
After a rain delay of approximately 40 minutes in the top of the fourth, the Roughriders added a second run in the bottom of the fourth. Kenny Bruce singled to start the frame, went to second on a passed ball, advanced to third on a ground ball and scored on a two-out single by Russell Sweeney.
St. Marys scored what proved to be the winning tally in the fifth. Matt Huber walked to start the inning and went to third when Aaron Homan's sacrifice bunt was thrown away at first base by Barlage. Huber later scored on a sacrifice fly off Justin Frey's bat.
"We began this week with the mind set that we had to begin to manufacture runs and hopefully our bats will take care of us or the other team will make mistakes and for two games it has worked pretty well," said St. Marys coach Dennis Pfeffenberger.
St. Marys appeared to be in control of the game as Taylor had shut out New Bremen on five hits through the first five innings. The Cardinals had a legit scoring chance in the fifth as Chris Heitkamp was hit by a pitch and Cory Jutte singled. However, Taylor got out of trouble by inducing Anthony Moeder to pop out to short and Matt McCollum to bounce out to short.
New Bremen finally got to Taylor in the sixth. Brad Wendel led off the inning with a single and was forced at second by Barlage. Jared Cox singled with two outs and Spencer Rohr came up with the big hit as he doubled to the gap in right-centerfield.
The visitors had Taylor on the ropes in seventh as Matt McCollum walked with one out and went to second on a wild pitch. After a visit to the mound by coach Pfeffenberger, Taylor settled down and induced Wendel to bounce to second and Barlage to fly to center to end the game.
"Jake threw a pretty good game tonight," said Pfeffenberger. "We talked this week because his performance Saturday was not very good for Jake Taylor. We talked about locating the ball, where he needed to put it and he took it to heart. Jake is a competitor and it showed tonight."
"I was really happy with the way we stayed in the game despite the awful conditions tonight," said New Bremen coach Greg Cox. "Even though St. Marys jumped on us, we were able to stay in the game and made a game of it. My hats off to St. Marys, they made the defensive plays when they had to make them.
"There were a couple of times tonight where we just needed a big base hit and we did not get," continued Cox. "In the seventh inning especially, we had the top of the order up and we got two men on, but give St. Marys credit. They made the plays when they had to."
For the game, Taylor allowed two runs on seven hits in gaining the complete-game victory. The junior walked three and struck out three.
St. Marys is back in action tonight playing host to Elida in Western Buckeye League play. New Bremen returns to action on Saturday at Fifth Third Field in Dayton against Jackson Center.