Monday, April 14th, 2008
Cavs comfortable at Fifth Third Field
By Gary R. Rasberry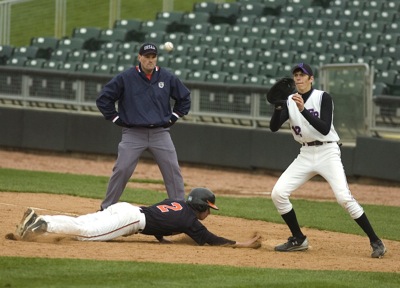 DAYTON - Judging by their play on Saturday, Coldwater is just as comfortable at Fifth Third Field as they are at Veterans Field.
Cavalier ace Bill Geeslin scattered three hits over five innings as Coldwater went to 2-0 in Midwest Athletic Conference play with an 8-0 win over Fort Recovery on Saturday as both teams played at the home of the Dayton Dragons.
Coldwater improves to 6-2 on the season as the Indians lose their MAC opener and see their record even out to 3-3.
Playing on the larger field and the pro ball surroundings did not give Coldwater any additional nerves, as the Cavaliers played error-free baseball and pounded out 11 hits in the game.
"Our guys have played in a lot of big games: baseball, football, basketball," said Coldwater coach Brian Harlamert, who like Fort Recovery coach Shane McKibben played as many players as possible in the game to give everyone the chance to play on the field. "Our guys were not in awe. They wanted to come here and play well. We played good defense, hit the ball very well. ... All in all, a pretty good game for our side."
The Cavaliers got the game-winner right off the bat. Cory Klenke led off with a single and went to third on Tony Harlamert's single. Keith Wenning brought Klenke home with a groundout that deflected off the glove of Indians' pitcher Greg Kahlig.
The one run was all that Geeslin would need. The junior struck out seven and walked three over five innings to get his second win of the season. Klenke went the last two innings as the pair did not allow an Indian runner to reach third base.
"He could have went all seven," said Harlamert of Geeslin. "But looking at his stats, he came in with 18 strikeouts and one unearned run. Today, giving up (three) hits, around the plate. He's that ace for us. ... He's thrown three very good games with a lot of games to go."
Coldwater kept the offense up , plating two more in the third as Kahlig loaded the bases and was pulled for Curt Heitkamp. Heitkamp walked Kyle Ahrens to bring in Wenning and Jordan Borgerding flew out to left to score Keith Schoenherr.
After another run in the fourth, Coldwater plated four in the top of the seventh.
Fort Recovery had chances to score as the team stranded seven runners on base. In the bottom of the seventh, the Indians had two runners on, but pinch-runner Nate Fortkamp was thrown out at third on a steal attempt and Bobby Rammel was stranded at third as Heitkamp grounded out to end the game.
"We had some runners on base. We just couldn't get that timely hit," said McKibben, who like Harlamert played at Coldwater. "You never know, things might have been different. Coldwater put the ball in play and made the plays. They have a way of taking advantage of your mistakes, whether it's throwing to the wrong base, not hitting a cutoff. They're a good team."
Even with the loss, McKibben was happy his team got to play at Fifth Third.
"It was a nice experience. The players are disappointed now, when they look back on it, it's going to be a good experience for the kids," said McKibben.
Klenke continued his hot hitting, going 3-for-3 with two runs scored. Harlamert went 2-for-4 with two RBI and Wenning added a pair of hits.
Both teams are back in action today. Coldwater hosts Lima Senior and Fort Recovery is at home for Franklin-Monroe.