Friday, April 18th, 2008
St. Marys residents say they fear attack
Council revising vicious dog ordinance to put some teeth into it
By Janie Southard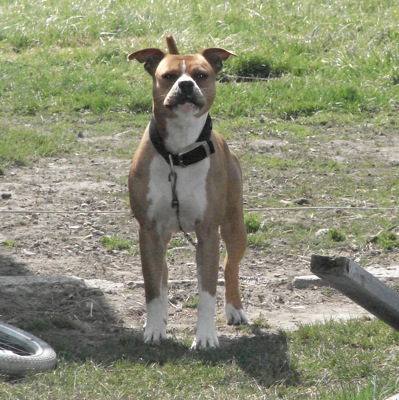 ST. MARYS - Penny Young would like to walk to the park with her 12-year-old daughter Taylor on warm evenings, but she's afraid.
She and Taylor were confronted by a menacing dog recently not far from their Beech Street home.
"It was out of its yard, in the middle of the street walking low and growling. We were terrified. I just kept saying 'don't move, don't move,' " she told the newspaper.
Finally her friend Randy Detillion and two men working nearby came to the rescue and scared the dog away. "Randy even took off his shoe to threaten the dog, but that didn't do any good ... I could tell Randy was afraid too," she said.
Young called the police, who sent an officer on a bike. "He knocked on the door and I guess talked to the people. But I never heard any more about it," she said.
No one got bit that time, but just a week ago a city meter reader wasn't so lucky. Safety Service Director Tom Hitchcock said at a recent council meeting that the meter reader went into the yard, didn't see the dog until it ran at him and nipped him. He was not seriously injured, Hitchcock explained.
"These problems aren't just on the east side, dog problems are all over town. And we need to do something," says city Councilwoman Robin Willoughby. "I love dogs and I'm not against them. It's the owners. If you want to have a dog, you need to be responsible for it. I can't tell you how many dogs I've seen tethered outside all over town with no water or shade. No wonder dogs get mean. It's awful."
Willoughby, a lifelong St. Marys resident who lives along Beech Street, attended council's safety committee meeting a couple weeks ago, where she predicted a dog would seriously injure a child before the summer was over. Several community members also attended the meeting to voice their own concerns about public safety as well as safety for the dogs.
Statistics confirm there's a fair amount of complaints about dogs. City police received 340 calls last year about barking dogs, dogs running loose or dangerous/vicious dogs as well as 91 calls about sick/injured animals, miscellaneous problems and animal bites.
The city's southeast side, which includes Beech Street, is home to several dogs chained outside, many of them out for long periods of time with no water, food or shelter from the weather, according to neighborhood residents. A number of these dogs aren't friendly and give every indication they'd bite if they could get to you.
Council is in the process of amending/updating the city ordinance regulating dangerous and vicious dogs under the supervision of City Law Director Kraig Noble, who spoke with the newspaper this week at his office.
Currently, the city is sending letters to owners of problem dogs giving specifics on how to comply to the city ordinance. The ultimate legal penalties for owner/violators are fourth degree misdemeanors on first offense involving a dangerous dog, which carries a maximum of 30 days in jail and a $250 fine. For dog owners the first offense is a first degree misdemeanor, which carries a maximum of 180 days in jail and a $1,000 fine.
The current ordinance, composed in 1992, also provides that the court may order the vicious dog humanely destroyed, but this has not occurred in many years, according to St. Marys Police Chief Greg Foxhoven.
"Years ago, when Curt Quellhorst was the dog catcher we would call him in. These dogs were usually strays that were so vicious we couldn't get near them," Foxhoven told the newspaper Thursday afternoon.
But the chief could not recall any recent instances where an animal was put down. "We don't seem to ever get to that stage. Most times people will comply with the requirements such as getting insurance, proper containment, a chain no longer than six feet and keeping their dog muzzled. Or they'll simply get rid of the dog," he said.
Years ago the police tried to chase down stray dogs and routinely were injured falling as they ran through back yards. They don't do that anymore, but are frequently bitten as they try to load stray dogs in the cars. "It isn't that the dogs are necessarily mean, they're just frightened," he said.
But according to the state of Ohio, all pit bulls are vicious from the moment they are born. State law permits all pit bulls to be labeled as such, said Noble, who has served as law director for 28 years.
"But other breeds, be they German Shepherds or mutts, are not automatically designated vicious or even dangerous," he added.
He said he's prosecuted "maybe a handful" of dog cases since the first ordinance was written in 1992 and written letters to dog owners as the result of complaints about their dogs.
"For certain complaints on a dog other than a pit bull I'll send a letter telling the owner we have reason to believe he has a dangerous dog. That owner has the right to an appeal process. Pit bull owners in Ohio do not have that appeals right," he said, adding there is no active appeals board at this time. He will recommend council appoint three residents to serve on such a board.
"Occasionally I'll write letters to the owner telling them they need to get insurance and keep the dog in an enclosure. Or even say, 'it's in your best interest not to have the dog'," he said, adding all owners of dogs deemed vicious must carry insurance.
The current city law says vicious dog owners must carry at least $50,000 of liability insurance, which is available through a specialty insurance agency like Ohio Insurance Exchange in Lancaster. Information provided from a local insurance agent's research on the matter is that for an annual premium of $449 to $945 an owner can get up to $300,000 liability coverage.
But the real issue for harboring a dangerous/vicious dog, according to Noble, is not the criminal aspect, but rather the possible civil actions, which could take years and a whole lot of money to settle.
Noble plans to have the ordinance amendment ready for council's review in a few weeks. City officials will hold three readings on the final version and hope for community input.
The law director said he doesn't expect the amended ordinance to differ much from the current one.
Foxhoven said he thinks the current ordinance is a good one. "It basically mirrors state law ... It isn't possible to draft legislation that covers everything," he said.