Saturday, April 19th, 2008
Roughriders tennis shuts out Bulldogs
By Gary R. Rasberry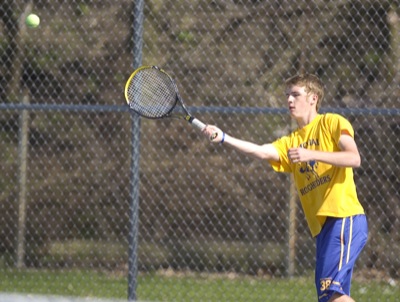 ST. MARYS - St. Marys rebounded from a tough loss to perennial Western Buckeye League power Elida to shut out Celina 5-0 in league play at the Memorial High School Courts.
The Roughriders even their league match mark to 2-2 as the NetDogs drop to 1-3 in the WBL.
All five St. Marys wins came in straight sets, with the most games lost in a set being three. It wasn't for a lack of trying though, as Celina forced a number of long rallies for points.
"We returned a lot of balls. We made St. Marys hit a lot of balls," said Celina coach Jan Morrison. "They ended getting the points and we didn't.
"I feel like we know the right things to do now. It's just instincts and execution. We're doing the right things, we're just not doing things right yet. But we can fix that."
Jameel Brenneman took the first singles match with a 6-0, 6-2 win over Kyle Miller. In second singles, Michael Schmitmeyer won the opener over Adam Turner 6-0 and had a battle in the second set before winning 6-3. Freshman Joseph Brenneman completed the singles sweep for the Roughriders with a 6-0, 6-1 win over Craig Everman.
In doubles, St. Marys' first doubles team of Adam Kuffner and Zac Martin and the second doubles team of Jeff Coleman and Blaise Katter each posted 6-1, 6-0 wins to finish the sweep. Kuffner and Martin defeated Jay McKirnan and Tyler Everman while Bryan Robbins and Ryan Rutschilling were defeated by Katter and Coleman.
St. Marys coach Brice Brenneman was happy his team rebounded from Thursday's loss to Elida, while also paying some compliments to the Celina squad.
"We had a tough one last night and it was good we could bounce back," said Brenneman. "You're never sure how you'd come back from that.
"I thought Celina, it's the first I've seen of them this year and for all that they lost from a year ago, competed very well. The scores look pretty one-sided, but it was a good competitive tennis match. Celina played some pretty good tennis here."
St. Marys is back in action on Monday, hosting Lima Central Catholic in nonleague play before traveling to Defiance on Tuesday for another WBL matchup. Celina is back in action on Tuesday, hosting Van Wert. The Celina junior varsity tennis team will compete in tournament play in Greenville today.