Friday, April 25th, 2008
Wildcats sweep home tri-meet
By Robb Hemmelgarn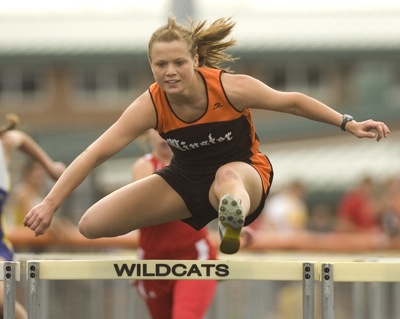 MINSTER - In a mid-week triangular meet featuring a trio of neighboring MAC schools, the Minster Wildcats played host to the Marion Local Flyers and the New Bremen Cardinals and sent their guests home with defeats on both the boys and girls side.
Although Minster's rosters were depleted, with most of their squads on a band trip to Florida, they were both still able to hold off their opponents to record the clean sweep.
"We are really happy with how things turned out tonight on our end," explained Wildcat girls coach Cindy Nelson. "We had 21 girls out tonight, so we had a lot of runners in different spots, but I felt they really responded well. All week in practice they got a lot more individual attention, and it was a great boost for their confidence. Some of these girls normally finish seventh or eighth in an event, but tonight they placed in the top three, so that is wonderful for them and it helps us to add to our depth."
In the end, the Wildcat girls held off Marion Local by a final of 69-63, while the Cardinals placed third with 43 points for the afternoon. Stacey Sherman was the big gainer of the day for the Orange and Black, as she recorded victories in both hurdle events. In the 100-meter hurdles, she finished in 17.83 seconds - less than a second quicker than Marion Local's Erika Brookhart. In the 300-meter event, Sherman edged the Flyers' Annette Bruns by just over a second, finishing in 52.96 seconds.
Minster also won two of the four relays as it took the 4x100 in 53.08 seconds and the 4x800-meter relay in 10:03.04.
On the boys' side, Larry Topp's Wildcats defeated New Bremen 68-54, while Marion Local was just a point behind with 53 counters.
New Bremen's Bryce Bergman sparkled by taking the top spot in the 100 and 400-meter dashes, as well as the 110-meter hurdles. He won the sprints with respective times of 11.71 and 51.67 seconds, while taking the hurdles with a 15.43.
In their victory, the Wildcats were paced by a pair of double winners - senior Kregg Olding and junior Jacob Phlipot. Olding took top honors in the 1,600 and 3,200-meter runs with times of 4:48.06 and 10:36.42, while Phlipot flexed his muscle in the shot put and discus with respective throws of 47-10 and 131-6. Like their female counterparts, the Minster boys also captured the sprint and distance relays with victories in the 4x100 and 4x800-meter races. The Wildcats took the 4x100 in 47.10 seconds, while they were victorious in the long-distance event in 8:27.01.
"Tonight was a good night to do some experimenting with different kids in different spots," said Topp. "I think each of the boy's teams tried a few things tonight out of the ordinary, so it was a relaxing meet just to see some new kids in different races. I was really pleased with how everyone did and one thing that was nice to see was in our two sprint relays - we started a pair of freshman and we were able to win one of the races and placed second in the other. It was just a good night to see what we could do and a lot of the kids really stepped up."
Minster is back in action on Saturday at Milton-Union Bulldog Classic. Marion Local travels to Coldwater on Tuesday for a tri-meet with St. Henry. New Bremen takes a week off before hosting the Cardinal Invitational on May 3.