Tuesday, April 29th, 2008
Ducking trouble
Celina man 'battles' manmade and animal obstacles to lead a family to safety
By Shelley Grieshop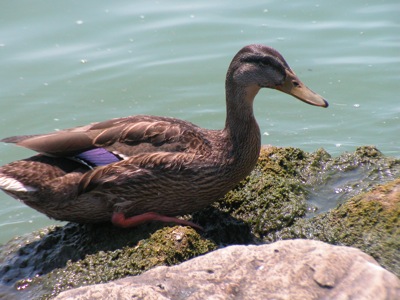 Bob Chaney doesn't have a shimmering green neck or bright orange webbed feet, but he recently resembled a papa Mallard duck.
Chaney climbed to the depths of a storm sewer and battled hungry dogs and cats while on a mission to lead a mother duck and her precious cargo of ducklings to Grand Lake on Sunday afternoon.
The story begins in late March when Chaney of Celina first noticed a mother duck nesting near the front door of St. John Lutheran Church (the purple door church) on the north end of Celina.
"Everytime I stopped at the church I checked on her," he says. "I guess you could say I got attached."
Chaney peered at the Mallard duck prior to services Sunday but later noticed cracked egg shells and an empty nest. Knowing the mother was a long way from the safety of Grand Lake, he set off to see how she was doing on her journey.
He didn't get far.
"I got in my truck and drove to the end of the driveway. That's when I saw her sitting on a manhole cover making a lot of noise," Chaney says.
Her brood of 13 had fallen through the manhole cover. "It didn't look good," he says.
He saw the pastor coming and asked for help. Chaney crawled down into the storm sewer and one by one handed the fuzzy ducklings to the pastor waiting above.
"She (mother duck) called after them and took them under a pine tree. Don't know if she was counting them or what," he says.
Soon the feathered family was on its way to the lake. Congregation members began stopping traffic on Myers Road as the ducks crossed the busy street, and Chaney followed in his truck.
Perhaps the unlucky number of ducklings carried a curse because trouble seemed to meet them at every corner.
"The mother duck cut between the houses into a yard with a big white pit bull. It started chasing her and the little ones scattered," Chaney says.
Some of the young headed into a neighboring yard where one noisy duckling found itself in the slobbering mouth of a black dog. The owner arrived on the chaotic scene and helped the group free the captive bird.
Chaney hopped back into his truck and drove ahead of the web-footed party, blocking traffic on street after street so the little ducklings wouldn't become tire tread. Joined by a growing number of helpers and curious onlookers, he left his truck near Wayne and Cherry streets and soon heard the mother duck honking loudly. In a flash Chaney spotted a big, white cat with a very satisfied look on its face. The feline's afternoon snack took the duckling count to 12.
By now a system was in place. Children and adults were moving ahead of the duck parade, going house to house asking homeowners to please hang onto their pets. Trucks and cars were backed up for several blocks on Market Street as the waterfowl waddled between a restaurant and auto parts store.
"She (mother duck) went over the railroad tracks heading for Pullman Bay but the ducklings couldn't get over the rails," Chaney says.
So close to the final destination - and by now feeling like part of the family - the helpers reached down and lifted the ducklings over the tracks to their new home on the lake.
Chaney, a grandfather of 12, watched as his duck family swam away then realized he had to hustle to his truck parked blocks away. Sweaty and tired, he was late for a gig as audio technician back at the church.
Although it's OK to help and even escort ducks and geese to safety in some instances, wildlife officials say it's best to leave them alone.
"If the parents are there, leave them go. They'll usually make it on their own," Mercer County Wildlife Officer Ryan Garrison says.
Garrison understands the concern but advises that adults will sometimes abandon their young when people interfere.
He also points out that feeding bread to the geese and ducks along the lake is a bad idea, too. It doesn't provide them with nutrition and fills them up so they don't eat what they need to stay healthy. It also makes them dependent on people - a bad thing for all wild animals, he adds.
"I'm not criticizing what that guy did to help, I just want people to understand that this is life in the wild. Some make it and some don't," Garrison says.