Wednesday, April 30th, 2008
Photo by Betty Lawrence
Wasp haven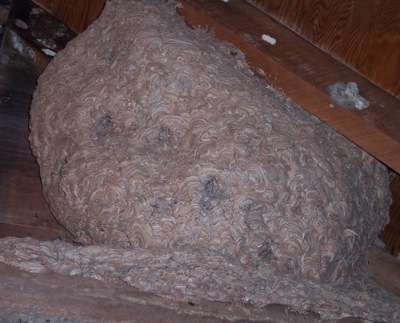 Dave and Linda Leighner of Rockford were grateful this monstrous paper wasp nest had been vacated when they recently uncovered it while dismantling an old farm home along Old Trail Road in rural Rockford. The home belonged to Dave Leighner's parents, Howard and Olive Leighner, who are both deceased.
The nest, located beside a west window in an upstairs bedroom, measures approximately 30 inches in length and width while the adjoining brooding chamber also measured nearly 30 inches in length and spanned about 18 inches.
"It was kind of a shock at first, but when you started looking at it closely and see the different colors on it, it really is quite beautiful," Linda Leighner said, adding they had no idea how long it took for the nest to reach its present size.
The nest is delicate to the touch, almost paper-thin. The Leighners, fearful that dismantling the nest will destroy it, have been taking pictures to preserve its memory. Paper wasps construct their nest by chewing bits of wood with saliva, turning it into a papier-mache like mixture that they apply to the nest.
Additional pictures for this date



Photo Albums
Thursday, March 23

Wednesday, March 22

Saturday, March 18

Wednesday, March 15


Online Video
Saturday, February 4