Friday, May 2nd, 2008
Homan doing it all for Bulldogs
By Ryan Hines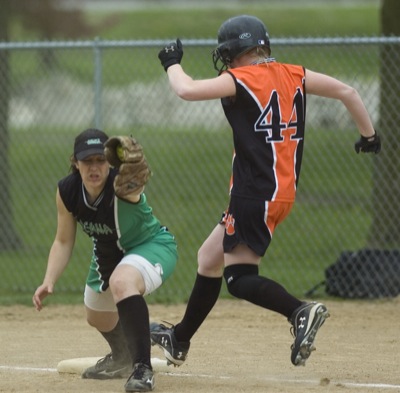 Thursday was like a showcase game for Laura Homan as the Celina senior proved once again just how important she is for the Bulldogs' softball team.
Homan was near perfect on the mound in another dominating pitching performance and she also jump-started the game-winning rally in a 1-0 win for Celina over Versailles.
Spectacular pitching is nothing new for Homan who leads the Grand Lake area in nearly all pitching categories, but she was nearly untouchable against Versailles.
The Tigers managed just an infield single on a close play at first base against Homan and Versailles struck out 15 times while not getting the ball out of the infield dirt. Homan struck out at least one Tiger in every inning while fanning the side in three different innings.
"I really liked her mix today, she hit her spots and her ball was really moving," said Celina head coach Nicole Driggs.
"I just tried to do my best," said Homan. "My drop ball was working pretty good and I just tried to make them hit the pitch that I wanted them to hit."
Versailles head coach Phil Cavin knew that runs were going to be at a premium when facing Celina.
"We knew coming in that Homan was a very good pitcher," said Cavin. "We thought that we would have to squeak a couple of runs through to win the game, but it just didn't happen. She hit her spots and made it tough for us to hit her. They are the best team that we have played this year and we've played some good teams."
Homan's performance on the mound overshadowed a strong outing by Versailles' Mackenzie Mayer, who allowed just five hits and struck out 11 Celina batters.
It wasn't until the sixth inning that Celina finally got to Mayer, and it was Homan that sparked the rally.
With one out recorded, Homan ripped a double to the gap in right-centerfield, her second two-bagger of the game, and went to third base following a Versailles passed ball.
That brought up Kinzie Gardner, who was already 0-for-2 with a pair of strikeouts. Gardner delivered in the clutch for the Bulldogs with a soft liner to rightfield allowing Homan to trot home with the winning run.
Despite failures in her first two at-bats, Gardner was confident with the go-ahead run standing on third base.
"I noticed that I was dipping my hands during my swing in my first at-bats, so I felt pretty confident going into my final at-bat because I knew what I was doing wrong in the first two," said Gardner. "I just had to keep my head up and do what I know that I can do. Laura did a great job of keeping them scoreless until we were able to score a run to win it."
"I felt that Kinzie was just missing the ball by a tad in the first two at-bats and I was confident that she was going to get the job done in the sixth inning," said Driggs.