Saturday, May 3rd, 2008
New K-9 hits the streets
By Margie Wuebker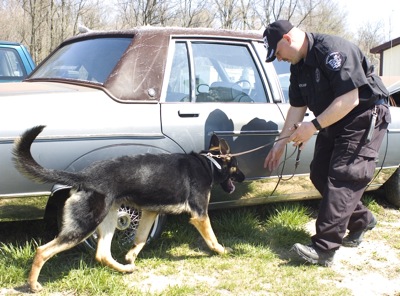 Deputy Bleck, a rookie with the Mercer County Sheriff's Office, appears meek and mild as he strolls through the office getting acquainted with the physical layout as well as friendly personnel who would rather pet his head than shake his paw.
His calm but inquisitive demeanor changes with a single-word command from Deputy Chad Fortkamp. Instantly, the rookie's ears perk up and nothing escapes his piercing dark eyes. White teeth flash menacingly as he poises waiting for the order to attack; then immediately relaxes when the message comes to stand down.
The 161/2-month-old German Shepherd joined the department this week as its first K-9 unit since 2001. The milestone took place after he and Fortkamp, the designated handler, completed four weeks of intensive training at Von der haus Gill Kennel east of Wapakoneta. The operation, headed by noted trainer Al Gill, draws law enforcement officers from throughout the country to its Police K-9 Academy.
Initially, Fortkamp was partnered with a German Shepherd named Mac and even had an opportunity to bring him home prior to training to begin the bonding process. When the canine failed to perform as expected during the first two weeks of training, Bleck was brought in as a replacement.
"We were at a distinct disadvantage in the beginning because he didn't know me and I didn't know him," the deputy says. "Becoming buddies came quickly, but Bleck remains first and foremost a law enforcement tool that may be called at some point to put his life on the line for us."
Fortkamp, who began as a reserve officer before assuming full-time status nearly five years ago, repeatedly asked Mercer County Sheriff Jeff Grey about bringing the K-9 program back. He chuckles admitting the sheriff probably grew tired of his frequent inquiries. Two deputies expressed an interest and he was selected following an interview at Gill's training facility.
"My dad (Don Fortkamp) raised field trial beagles so I've been around dogs all my life," he says. "But this involves far more than a commitment on my behalf."
Prior to applying, Fortkamp had a heart-to-heart talk with his wife Chris and then mentioned the possibility to their children - Abbi, 21/2, and Aaron, 41/2. The decision is a life-changing one since the dog lives exclusively with the officer and his family who assume total responsibility for its care.
"Chad talked about becoming a K-9 officer before we married," Chris Fortkamp says. "I know how much he wanted this and I wanted it for him."
The dog has become acquainted with more than Dora the Explorer dolls and a little boy's adventure figures since his arrival from Germany. Going into buildings and climbing stairs were totally new experiences along with the feel of carpeting and floor tiles underfoot. Bleck has even put on much-needed pounds since canines often arrive looking emaciated by American standards.
He "speaks" German, responding immediately to words like "nein" (no), "sitzen" (sit) and "plotz" (lay down), but listens only to the command of his master, screening out similar words spoken by other voices.
"We're still working on obedience," Fortkamp says rubbing between the dog's ears. "He has to obey a command to enter a building without hesitation and stop immediately if I send him for a bite and then call him back."
Bleck has a nose for drugs like marijuana, methamphetamine, cocaine and heroin. Being able to ferret out their hidden location is one of the certification standards for K-9 units.
He also is adept at searches and tracking. Both Fortkamp and Grey believe Bleck will be a valuable resource in locating children or mentally impaired adults who wander away from home.
In addition to taking part in regular patrol work, locating drugs and tracking down good as well as bad guys, the K-9 team will be available to assist other law enforcement agencies in the county, search buildings in the wake of burglaries, check for contraband in the jail and make appearances at area schools, community events and meetings. The team also could respond outside the county should the need arise.
"I wanted a dog with a mentality like Nick over at Celina Police," the deputy says. "Bleck's not quite at that level yet. There's still a lot of playful puppy in him."
Grey describes the animal as a $15,000 investment, counting not only the purchase price but special equipment and lettering for a cruiser, a dog run, on-going training, veterinarian bills and food. The next expenditure likely will be a bullet-proof vest.
"Bleck represents a considerable investment," the sheriff adds. "But if he locates just one missing child, finds someone's missing parent or saves the life of a law enforcement officer, it will be money well spent."