Wednesday, May 7th, 2008
New water taxi service hits waves of Grand Lake
By William Kincaid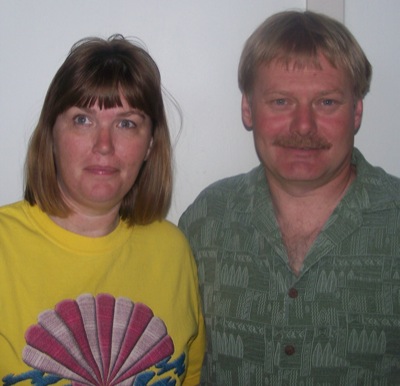 A new taxi boat service will transport people to various dining, drinking and recreational destinations around Grand Lake, beginning May 23.
Whether planning an evening out at a lakeside establishment or just enjoying the lake and its channels, Grand Lake Express Water Taxi owners Tim and Rhonda Feasby say they'll ship revelers in style and comfort.
The Van Wert couple will pick up passengers at 12 spots on the lake during weekends. For $10, a person can purchase a round trip ticket to one destination and back. With the purchase of an $18 ticket, a passenger can go to five different places, with the fifth stop being the final destination.
The pontoon boat will be making stops at West Bank Inn & Villas, Carter Villa, Bella's, It's It, Shingle Shack, Bayview Pub, Behm's, Duckfoot's, Sunnyside, Rustic Haven, the state park campgrounds, Celina Eagles and Celina Moose.
Tickets can be bought at each pickup location or ordered in advance, Tim Feasby said. They also can be reserved in advance, which he said may be necessary during busy holiday weekends.
"If you'd like to get aboard our taxi service all you have to do is call our number (419-203-4952) and we will pick you up at any destination location," he wrote in his business brochure.
Feasby, who has the necessary state permit and license, said passenger safety is his No. 1 priority. By the time of his May 23 maiden tour, the boat will be equipped with a radar system displaying the shoreline, trees, islands, other boats and obstacles, he said.
Feasby, who has worked with boats all of his life, said he was digging a ski lake in the St. Marys area a few years ago when he stopped at a few restaurants and learned the area could really use a water taxi service.
"There was really a great need for transportation," he said.
Feasby said his service is a safe alternative for those who want to get out on the lake and drink at local establishments.
"Why worry about it?" he asked, encouraging people to call for his taxi instead of drinking and driving a boat.
The Feasbys also have a second boat that can be rented for private tours of the lake during both the week and the weekends, he said. The cost includes the boat, fuel, a captain, deckhand and up to 16 guests. They also offer a tow service.
This fall Tim Feasby said he plans on going to Captain's School near Chicago to obtain the necessary coast guard license to provide boat trips at Lake Erie.
The Grand Lake Express Water Taxi begins May 23 and is open on Fridays from 4 p.m. to midnight; Saturdays from 11 a.m. to midnight; and Sundays from 11 a.m. to 9 p.m. Feasby said he plans on offering the service until the end of September, with possible private tours extending until October.