Thursday, May 8th, 2008
Better water for Celina just weeks away
By William Kincaid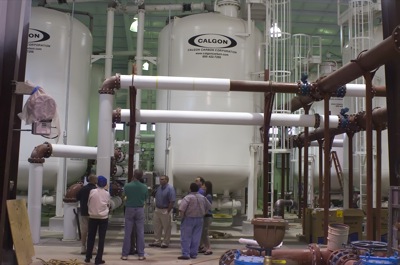 Celina's new water treatment facility aimed at making the city's water safer to drink and tasting better is expected to be online some time in July, city consultant Kent Bryan says.
Bryan and water plant superintendent Mike Sudman took Celina City Council members on a tour of the new granular activated carbon (GAC) building on Wednesday evening. The building is on the site of the former Blue Goose along U.S. 127.
The $6 million project will use carbon to filter the water one more time after it leaves the city's existing water treatment process.
Bryan told the tour group that water from the existing plant will collect in a 20-foot-deep reservoir underneath the building's pump room. Four high-powered pumps will send the water to eight, 25-foot high GAC tanks.
Each tank will contain 40,000 pounds of carbon that will absorb the organic content now in the city water drawn from Grand Lake. The organic content has been causing the water to exceed the EPA limit of trihalomethanes (THMs), which lab tests have linked to some forms of cancer and other diseases.
After the GAC filtration, a system of eight pipes will transport the water to the water plant's clear well before another set of high-powered pumps sends it through the city's distribution system.
Bryan said he was unsure if the city will need to use all eight tanks during normal times.
Currently, the city requires around 1.2 million gallons a day. But during peak periods - especially in late summer - that amount jumps to as high as 2 million gallons a day. The GAC plant will be able to pump 3 million gallons a day using all eight tanks, Bryan said.
By limiting the number of GAC tanks running during most of the year, the city could save money, he explained.
All eight tanks require a total of 320,000 pounds of carbon for an eight-month period. Bryan said each pound of carbon costs $1 - equaling $320,000 in carbon costs.
Also, instead of purchasing an expensive air conditioning system to prevent the water pipes from sweating - which could create puddles and work hazards - the city opted to simply place insulation on the pipes and use fans.
The Ohio EPA recently issued Celina a deadline of Sept. 30, 2009, to have the average THM in its drinking water in line with state standards or face a $20,000 penalty. The city should have no problem meeting that deadline, Sudman said.
EPA findings and orders handed down several years ago called for the city to fix the problem by Nov. 7, 2007, but EPA officials have extended that deadline a few times and not issued fines since the city was making sincere efforts to gain compliance.