Monday, May 12th, 2008
Fort Recovery, New Bremen earn tight wins
By Gary R. Rasberry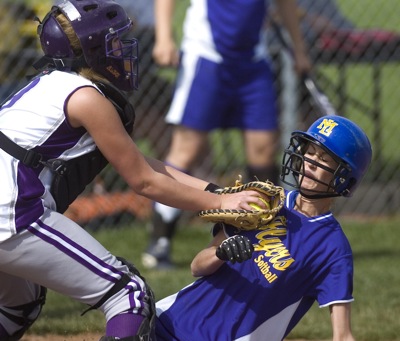 NEW BREMEN - The crew that worked to get New Bremen's softball diamond in shape for Saturday's Division IV softball sectional were rewarded with a pair of great games.
In the opening game, Fort Recovery's Kinsey Wenning kept Marion Local's batters in check as no Flyer baserunner could find the plate in a 2-0 win for the Indians.
In the second game, Minster and New Bremen engaged in a pitchers' duel between Cardinal Stacy Timmerman and Wildcat Megan Stueve. The Cardinals scored the only run of the game in the bottom of the sixth to post a 1-0 win.
The sectional final matchups for this week start on Tuesday as Fort Recovery plays top-seeded St. Henry at 5 p.m. at New Bremen. The Cardinals come back Wednesday to face second-seed Parkway at 5 p.m. in the other sectional final.
Fort Recovery 2, Marion Local 0
Wenning had Flyer batters out in front for most of the game, holding Marion to just four hits while striking out three. The Indians defense did its part as Josie Guggenbiller threw out one baserunner trying for second.
"She did a fantastic job," said Indians coach Marie Osterholt. "She got behind, then came right back and never gave in. She did a fantastic job."
"She did a nice job pitching," said Marion coach Russ Puthoff of Wenning. "She was getting the strikes she needed and the defense played outstanding behind her. They did what they had to do to win the game."
To get their runs, the Indians played station-to-station softball to perfection.
In the third, Heather Schmackers reached on an infield hit and moved up one spot as Val Fortkamp and Ashley Grube grounded down the first-base line. Wenning helped her own cause with a single to right-center to score Schmackers for the game-winner.
Insurance came in the fifth when Schmackers, who with Carla Guggenbiller each having two of the Indians' nine hits, singled and moved to second on a wild pitch. Fortkamp bunted Schmackers to third before Michelle Fleck uncorked a wild pitch to bring Schmackers home for the second run.
"That's important," said Osterholt. "Find a hole, then make (the other team) work. We had some good short-hit balls and we did a fantastic job."
That would be all Wenning needed as 12 of her 21 outs came via ground balls. Only two of Marion's outs went to the outfield.
The best chance for the Flyers to break the shutout came in the bottom of the seventh. Brittany Thobe singled and stole second. After Amber Fleck moved the runner up, the Flyers tried to delay steal for home that gave them a win earlier in the season against Minster. This time, though, Wenning reacted quick enough to throw to Josie Guggenbiller at home, who tagged out Thobe with steps to spare for the second out. Jodi Otte ended the game by grounding to Amy Hart at first, who kneeled on the bag as she scooped the ball to end the game.
"They hit well, they played defense great, they did all the little things they needed to do," said Osterholt. "It's just so fantastic. I'm so proud of them. I hope they can keep it going now."
New Bremen 1, Minster 0
It looked like for the first five innings that extra innings were going to be needed in this contest as the Cardinals and Wildcats relied on strong pitching efforts and defense.
Both teams recorded double plays to end scoring threats and came up with some big plays to prevent base hits.
In the top of the second with Holli Berger at first, Laura Timmerman hit a short pop that Cardinal third baseman Jackie Scheer dashed in to catch, then threw to LeAnn Thieman at first for the double-up.
"We've been a little bit of a struggle here. We had an inning or so in our other games where we make a mistake," said Cardinals coach Craig Griesdorn. "Our theme coming into today was 'We got to make plays, and we're going to make plays.' I said 'Come with a smile on your face and good things will happen,' and I think the kids relaxed a little today."
New Bremen finally dented the board in the bottom of the sixth. With one away, Tracy Jacoby reached on an infield single and went to second when the throw went into the Minster dugout.
After Morgan Russell came in to run for Jacoby, Griesdorn singled to center to score Russell. Dwenger followed with a single and Bruggeman bunted her way on to load the bases but Seger avoided more damage by getting Thieman to ground into a 1-2-3 double play to end the inning.
"We had 3-4-5 up (in the batting order) when we scored," said coach Griesdorn. "Stacy didn't get on base, but Tracy was able to and take advantage of the error. Michelle came in and drove it to right-center. We were hoping for more, but they made nice plays."
That was all Stacy Timmerman needed to close things out, striking out the last two batters she faced to get the two-hit shutout.
"It was a good game. A great pitchers' duel," said Minster coach Tom Berger. "Our team played excellent defense. The defense we've played the last three games has been outstanding.
"We just have to get our bats out. We were way out front of her all day. We were so anxious to get that ball. If we get her (Timmerman, who did not walk a batter and struck out six) again, we put some hits out there, we'd make a helluva game out of it."
"Both teams played well," said coach Griesdorn. "Stueve (five strikeouts, one walk in six innings) is a good pitcher. She held Parkway 2-1 and lost a lot of tough games, like we lost a lot of tough games. I'm glad we get to leave with a smile."
Bruggeman was the only multi-hit player in the game, going 2-for-3.