Wednesday, May 14th, 2008
Fort Recovery is peaking at the right time
By Gary R. Rasberry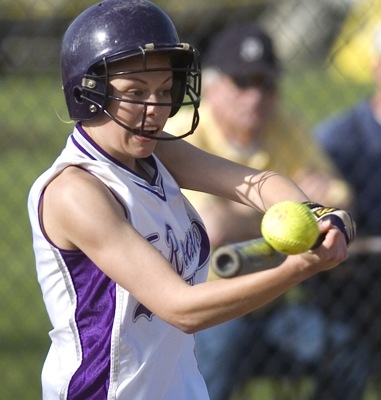 NEW BREMEN - The goal for every coach is to make sure their team is running on all cylinders when the postseason comes around.
Fort Recovery softball coach Marie Osterholt certainly has done that.
Kinsey Wenning fired another exceptional game as the Indians scored twice in the later innings to knock off top-seeded St. Henry 2-1 at the Division IV softball sectional at New Bremen on Tuesday.
The Indians (7-16) capture their first sectional title since 2005 and await the winner of the New Bremen-Parkway game scheduled for today. Fort Recovery and the New Bremen-Parkway winner face off next Tuesday at New Bremen in the district semifinals. St. Henry ends postseason play at 9-10.
"We did the little things and came out ahead," said Osterholt. "It was a heckuva good game. Two to one, you can't get any better than that. We just played well."
Both teams' pitchers came up with strong performances on the day. Wenning, who scattered four hits against Marion Local on Saturday in the sectional opener, allowed five hits in the game against St. Henry. Two of those hits came in the third when Brittany Bayles reached on a two-out triple, then scored on Kenzie Bruggeman's single to give the Redskins a 1-0 lead.
"We had a few hits, but we didn't make the adjustments," said St. Henry coach Josh Link. "We went up there too anxious at times and not hitting the ball solid."
Redskins starter Michelle Stout worked hard to keep the Indians from coming around to score in the first four innings. Fort Recovery left a runner stranded on third in the first and on second n the third, but in the fifth inning, Fort Recovery finally manufactured a run thanks to a St. Henry error.
LeAnne Tobin singled with one away in the inning and moved to second when Kelly Thien grounded to third for the second out. Carla Guggenbiller stepped up and blooped a single in front of second baseman Brittany Rutschilling, who could not make a play to first for the out, allowing Tobin to score tying the game.
In the sixth with one out, Val Fortkamp reached first base because a wild throw and then raced to second base before Ashley Grube followed with a single to put runners on the corners.
With Wenning at the plate, Grube dashed for second on the steal. St. Henry's plan for the quick throw and return did not work as Fortkamp completed the delayed double steal to make it 2-1. Wenning reached later on a dropped fly to centerfield, but Stout ended any more threats with a fly to center and a strikeout. Stout finished the game with five strikeouts and a walk.
"That's the name of the game: take advantage if you can," said Osterholt. "The girls did it. I'm so proud of them. Just a great job."
With the lead in hand, Wenning worked quickly, needing just seven pitches to close out the bottom of the sixth and getting two straight groundouts to start the bottom of the seventh before Brittney Osterholt blooped a single just over the circle. Wenning wasted no time and struck out Bayles to end the game.
"It was a great win. A great thing for the girls," said Osterholt. "They work hard all year. It's just great for them."
"Michelle pitched extremely well," said Link. "It's just a case of us falling apart in that inning and not executing. It's a matter of not executing on offense as well. We had a runner on third base with nobody out (In the fourth, which St. Henry did not get the runner home). We can't do the little things right.
"Fort Recovery's a team that's going to make plays and are going to hang around. You can't let them hang around, and it ended up costing us. Congratulations to them and a tough break on our end."