Saturday, May 17th, 2008
Cardinals, Tigers claim titles
By Mark Ruschau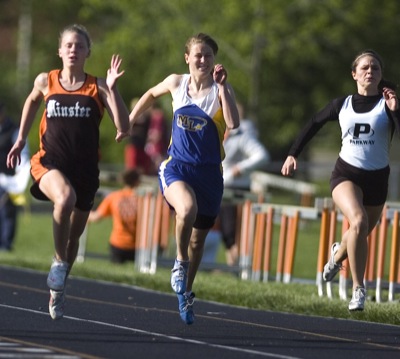 VERSAILLES - On a gorgeous late spring evening that was conducive to running and jumping, the athletes of the Midwest Athletic Conference put on a show for the fans gathered at Versailles High School as no fewer than five new meet records were established.
The Versailles Lady Tigers and the New Bremen Cardinal boys teams were able to hold on to their leads after the first day and capture team titles by convincing margins.
New Bremen, which had build a nine-point lead after the events on Tuesday, was able to expand its winning margin to 18 points over runner-up Minster. The Cardinals tallied 127 to 109 for Minster while St. Henry was third with 101.5.
"It's an honor to compete in a meet like this and for our guys to step up like they did, I cannot be prouder of a group of young men," said New Bremen coach Gary Jones. "We have been second all year to most of these teams and some things went right for us tonight. You have to have good athletes and you also need some depth and we were lucky enough to have both today."
Senior Bryce Bergman had a great night for the Cardinals as he won the 110 hurdles, the 300-meter hurdles and was part of the winning 1,600-meter relay team. Bergman set one of the meet records as his time of 14.75 broke the one year-old record of 14.80 by Parkway's Jacob Fox.
"Breaking the record in the 110-meter hurdles means a lot to me because there have been a lot of great hurdlers in the MAC," said Bergman. "One of my goals this year was to win the 300 hurdles as well and it was an ugly race but I was able to pull it out. My 300 meter race was not record worthy, but I was able to cut down on my steps, so it felt real good."
In addition to Bergman's heroics, New Bremen also got a win from Jeff Kremer in the 400 meters.
Minster's second-place effort was paced by senior distance runner Kregg Olding who run the 1,600 meters in wire-to-wire fashion in a time of 4:34.9 which was seven seconds faster than runner-up Doug Ranly.
"I waited until the 500-meter mark to make my move that is were my coach told me to make my move and it work out," said Olding. "I feel confident about the district race next week, I would really like to run in the sub 4:30 or the high 4:20's."
Ranly would get his revenge big time in the 3,200 meters, as he went out and set a blistering pace leading the entire race as won by over 20 seconds ahead of runner-up Olding in a time of 10:04.63.
"When the race started I wanted to get a good solid lead and then I knew I could lead the pack to the end," said Ranly. "It feels really good to be a MAC champion, I never that I could get this far."
St. John's sprinter Cameron Hermiller had a special night as he swept both sprint races, winning the 100 meters in a time of 11:07 and the 200 meters in a time of 22.92. He was also part a second-place 400 meter-relay team.
The Versailles 400-meter relay of seniors Josh Bergman, Shawn Winner, Kevin Grieshop and freshman Damian Winner tied the race record set by Parkway in 2005, with a time of 43.96.
"It was awesome to tie the conference record and setting the school record," said Grieshop. "We have been working at that all year and it is great to get it here. We have had the same four guys all year and it is great to have it work out this way."
In the only field event of the day, St. John's Jay Leininger won a battle with Marion Locals Dustin Heitkamp. Both jumpers cleared 13-6, with Leininger winning the event with fewer vaults.
On the girl's side, Versailles used its depth and an outstanding performance from distance ace Mary Prakel to rout the field. Versailles rolled up 151 points to 95 points for runner-up Minster.
Prakel won the 1,600 meters over Jessica Albers in a time of 5:17.87. The junior came back, and in a strategic race, won the 3,200 meters in a tight battle with Minster junior Lei Barhorst. In the 3,200 meters, Prakel ran second just off the shoulder of Barhorst until the final 100 meters and then she was able to win in a time of 11:40.20 to 11:41.5 for Barhorst.
"I look down my score sheet and see that we double scored in seven or eight events and I told the girls it not always who wins the races who wins the races but it is fourths and fifth and doubling up that eventually wins meets like this," said Versailles girls coach Mike Goubeaux. "I have all the respect for this league, it is a tough and competitive league and to win this meet is something to be proud of.
"Mary Prakel had a great meet," continued Goubeaux. "She is trying something new this year running the mile and two mile instead of running the 800 and the 4x200, I like the direction she is heading."
The Tigers' depth was equally impressive as they were able to post points in all 12 events and they were able to double up in five events.
Coldwater's Ashley Kanney set one of three records and pulled off a mild upset as she won the 800 meters in a time of 2:17.91 beating Versailles junior and former record holder Mindy Henry.
"It feels really good, I have been working real hard for this and it is really nice to see my hard work pay off," said Kanney. "I just ran the race as fast as I could, that was all I could do."
The other two records were set in the sprint relays. The Marion Local 800-meter team of Kristina Bruns, Allison Bruns, Rachel Hess and Elizabeth Reichert, broke a 26-year-old record set by Minster in 1982, with a time of 1:45.8. The other record was set by the St. John's 400-meter relay team of Lindsey Looser, Lauren Burgei, Dana Martin and Allison Reindel.