Monday, May 19th, 2008
Search locates drugs in car parked by Celina schools
By Janie Southard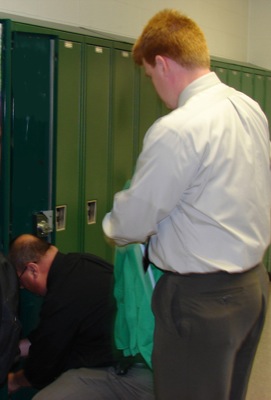 K-9 Units from Celina and area law enforcement offices found no drugs or alcohol on school property during a training sweep of two Celina school buildings and parking lots this morning. However, an arrest is pending after a substance was found on a vehicle parked adjacent to school grounds.
Celina Police Chief Dave Slusser said the dogs hit on four cars parked along the city street "where several high school students like to park their cars." A vehicle driven to school by a 16-year-old female contained alcohol and traces of marijuana.
"We received permission from her to enter the vehicle ... The complete report of our findings will be sent to the prosecutor's office for consideration in juvenile court," Slusser said this morning. "It's interesting that any time we've searched parking lots (at or near) the school we always find alcohol."
As to the actual search on school property, the chief said it is a cooperative effort among local departments. Searched this morning was the high school building and parking lots and middle school building and parking lot.
"This is part of an on-going training with our department and other local departments. It gives the dogs a chance to work and provides a drug check for the schools," Slusser said of the morning session in the Celina school district.
If anything would have been discovered in the lockers or in the school parking lots the matter would be turned over to school officials, who would follow district procedure.
Slusser said the area officers and their dogs meet every two weeks for some type of training.
"If they weren't here today, they'd be somewhere else working with the dogs ... Before the Mersman building was torn down they'd go over there (with permission) to get the dogs familiar with buildings and entries," Slusser said.
In the high school a dog alerted at a particular locker, which was then opened and searched by district Superintendent Matt Miller and Celina Detective Ron Waltmeier with nothing found.
Principal Jason Luebke explained the odor of marijuana can linger a long time. "If a student is somewhere where someone is smoking marijuana, the student's clothes will smell a long time even though the student was not using the drug," Luebke said.
The Shelby County Sheriff's Office dog Bonte, like most of her peers, is trained to detect heroin, crack cocaine, marijuana and other designer drugs.
"Most of her finds come from traffic stops. She also tracks criminals," said Shelby County Sheriff's Sgt. Brad Pleiman, who is Bonte's handler and was at Celina schools this morning.
He added that she will stop the running/hiding criminal by biting. "If I see the guy and he's (surrendering) I'll call her off," the sergeant said. "Most of them surrender."