Friday, May 23rd, 2008
Cavaliers vs. Titans for district title
Coldwater downs Paulding; O-G takes out Parkway
By Gary R. Rasberry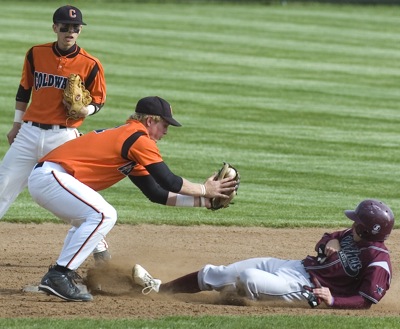 ELIDA - It's a familiar scenario: Coldwater playing for a district title in Elida.
The Cavaliers advanced to the Division III district baseball final on Saturday with a 11-1 win over Paulding on Thursday at Ed Sandy Field in Elida.
Coldwater (24-4) will play Ottawa-Glandorf at 1 p.m. for the chance to return to Elida next week for regional play. The two teams have not faced each other since 1999.
The Titans' Trent Haughn engaged in a tremendous pitcher's duel with Parkway ace Jensen Painter. Parkway got the opening run in the first contest at Elida, but the Titans (18-4) scored twice in the bottom of the fourth to come away with a 2-1 win, ending Parkway's season at 21-6.
Ottawa-Glandorf 2, Parkway 1
Painter put Parkway on the board in the top of the third after Jordan Thompson reached on a walk from Haughn. Painter blooped a high fly ball into short center that the Titans could not get to and Thompson was nearing third when the ball dropped and came around to score.
But that was all Haughn would allow the rest of the way as the junior gave up just two hits the rest of the way and struck out nine Panther batters.
"He's one of the main reasons we won the game," said Titans coach Nick Miller. "He kept us in the game and he threw well. That's one of the better games he's thrown all year for us."
"Haughn pitched extremely well," said Parkway coach Eric Stachler. "The bad thing is, at times in the game we helped him a lot. We completely got away from the way we swing. I don't know why. We had long swings today, trying to see if we can take the ball out of the yard. We didn't put the ball into play."
The Titans came back in the bottom of the fourth. Jake Meyer led off with an infield single. After a pop out, Alex Schomaeker doubled to left, putting runners on the corners. Aaron Leader grounded deep enough to second to allow Meyer to score and keep Schomaeker at second. Nick Leatherman grounded to third, but Levon Archer's throw was wild, allowing Schomaeker to score the go-ahead run.
Haughn retired the last seven batters he faced, including dashing off the mound to grab a foul pop down the first-base line for the first out in the seventh.
"It's a great win for us," said Miller. "That's probably one of the better teams we've faced all year. Jensen Painter threw a heckuva game. It's pretty bad that someone has to lose a game like this."
"Jensen never did get hit hard," said Stachler of his senior ace, who struck out six and walked three in throwing a four-hitter. "...He pitched well."
Coldwater 11, Paulding 1 (5 innings)
The Cavaliers came out swinging and put the game under their control early, scoring three times in the top of the first inning thanks to four singles and a Paulding error that made all three runs unearned.
That was all that Bill Geeslin would need to improve to 6-0 on the mound this spring. The junior fired a one-hitter and struck out seven over five innings, helping himself at the plate with a 2-for-4 game with an RBI.
"That's what our program does," said Coldwater coach Brian Harlamert. "We wanted to be aggressive and play each game one game at a time. Definitely big to get three runs in the first inning. ... When you get a good start, lot of things go your way."
The lone hit Geeslin allowed came in the second when Zach Stallkamp took a 1-1 fastball over the centerfield fence for a home run.
"It's a real boost of confidence when you have a real good infield behind you, great outfield as well," said Geeslin. "Made me feel more comfortable on the mound."
Coldwater put the game away in the fourth with three more runs, with Keith Wenning hitting a bases-loaded double to make it 7-0. The Cavs then added four more in the fifth as the Cavaliers batted around. Cory Klenke drove in two runs with a single.
Ryan Geier went 3-for-4 in the top of the batting order to pace Coldwater. Tony Harlamert and Klenke joined Geeslin in collecting two hits apiece.
"This program has been in this game (the district final) on Saturday five times in a row," said Harlamert. "We know O-G has a good program and a good team. We're going to take care of our business. Our business is to play aggressive and come here to do our job. It's going to be a good game regardless who we play."