Saturday, May 24th, 2008
Local man will make tomb walk once more
By Margie Wuebker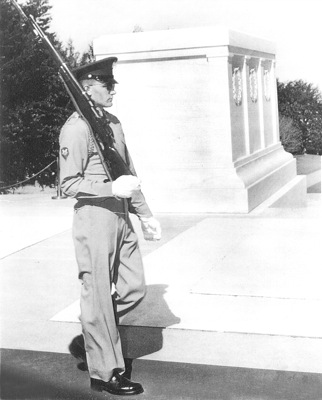 Celina native LaVern Pax will spend Memorial Day at a place he knows very well - the Tomb of the Unknown Soldier in Arlington National Cemetery. He cannot think of a better place to celebrate freedom and salute the brave men and women who served their country in good times and bad.
Arlington, a 1-square-mile stretch of neatly manicured lawn studded with more than 370,000 white grave markers and small American flags, served as his base of operation for 18 months beginning in April 1957. As part of an elite unit known as The Old Guard, 1st Battle Group, 3rd Infantry assigned to Fort Myer, Va., Pax was selected as an honor guard or sentinel at the landmark tomb.
The 72-year-old Pax, who currently resides in Pickerington, will take a different path this time. Instead of 21 measured steps, a 21-second pause, a flawless turn and then 21 equally precise steps, his assignment is to lay patriotic wreaths at the tomb with assistance from his grandchildren. The two ceremonies - one at 12:15 p.m. and the other at 1:15 p.m. - commemorate the 50th anniversary of the interment at the tomb for the unknown soldiers from World War II and the Korean War.
Assisting their grandfather, a retired Nationwide Insurance agent who owned and operated an agency in St. Marys for 321/2 years, will be 2-year-old Michael Farley, 4-year-old Kayla Farley, 6-year-old Emma Pax and 5-year-old Edmund Pax.
Pax recalls the Memorial Day ceremony five decades ago as if it were yesterday. With the most seniority (14 months) among the 12 men assigned to the unit, he earned the distinction of being the last soldier to stand guard for the single unknown soldier and the first accorded sentinel duty for all three.
"It was a warm day and people came by the thousands," he says. "The caskets were brought from the Capitol by caissons with people lining the entire route. President Dwight Eisenhower placed a wreath between the graves of the two unknowns. Vice President Richard Nixon also was there."
Photographs taken that day show 22-year-old Pax standing in the sentinel box showing no ill effects from the heat after relinquishing his post to fellow guard William Y. Barton. Several people had collapsed that day due to the heat and were treated by Army doctors.
"The honor guard unit is accustomed to being out in all kinds of weather - blazing heat, freezing cold, pelting rain, blowing snow and stinging sleet," he says. "Those things don't matter because it is such an honor to walk those hallowed grounds."
His parents (Edmund J. and Mary Frances Myers Pax) and many of his 14 brothers and sisters joined the throngs of spectators that day.
A 50-member delegation of family and friends will be on hand this weekend including his wife, the former Shirley Fischbach of New Bremen, their three children and some of the six grandchildren. A family gathering will precede the ceremony Saturday night at the home of nephew Jerry Leugers, who is stationed with the U.S. Navy at the Pentagon.
"My brother compiled a list of people he wanted to attend the ceremony," says Mary Catherine Brunswick of Minster, adding she was told President George Bush also would be there.
Pax, a 1953 graduate of Memorial High School in St. Marys, worked at Goodyear Tire & Rubber Co. before entering the U.S. Army on Oct. 1, 1956, at the age of 20. Following basic training at Fort Carson, Colo., he successfully passed a series of interviews leading to an honor guard appointment. Within a month of his selection, Pax earned the distinction of walking the Army's top post at Fort Myer, Va., - the residence of Army Chief of Staff General Maxwell D. Taylor.
Officials granted his request to be assigned as a tomb guard two weeks later. In order to apply for the coveted post, soldiers must measure between 5 feet 10 inches and 6 feet 2 inches with a waist measuring no more than 30 inches. At 6 feet tall and 185 pounds, Pax fit the bill.
"I figured my chances of being selected were about 1 in a million," Pax says during a telephone interview from his Columbus area home.
After a month of intense training, his assignment at the tomb began April 2, 1957, and ended Oct. 2, 1958. He worked 24-hour shifts - standing guard six times over the course of 24 hours and then receiving two days off. In between the shifts, he was free to rest, eat at the mess hall, study cemetery memorabilia or watch television in the amphitheater below the tomb.
He chuckles recalling how pretty girls tried to distract him from the appointed course by asking for his phone number or trying to start a conversation. His peripheral vision occasionally picked up a child slipping beneath the chain but another guard quickly intervened.
"My job was to keep marching those precise steps with eyes fixed straight ahead," Pax says. "It was an honor to serve not to mention being invited back this weekend. It will be like turning back the hands of time."