Thursday, May 29th, 2008
Businesses will open at Harbor Square in Celina
Another retailer ready to sign
By Shelley Grieshop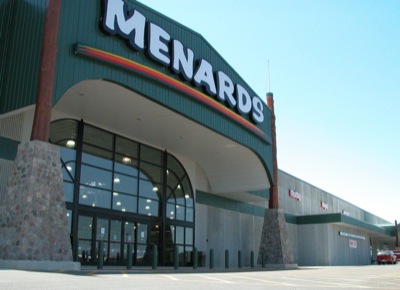 Menards and a Sonic restaurant will open in Celina in approximately two weeks, and a deal is nearly complete for another retail business in the Harbor Square Development.
Officials for Menards say the sprawling 240,000-square-foot home improvement store officially will open for business on June 10. A grand opening celebration is slated for June 28, according to store general manager Chris Schroeder.
Menards is located in the largest outlet surrounding the Wal-Mart Supercenter, however, Wal-Mart is still the largest store by about 30,000 square feet.
The Sonic drive-in restaurant, which fills a lot next to the Murphy USA gas station along Havemann Road, also plans to open by mid-June. However, franchise owners could not give a specific date at press time today.
A sale is nearly final for another outlot south of the Bob Evans restaurant, according to Bo Gunlock, spokesman for R.G. Development.
"Yes, there is a deal pending and we're very, very close to completing it," he said.
Gunlock refused to identify the business or even divulge what type of establishment is interested in building on the 2.5078 acres near the four-lane U.S. 33.
The opening of Menards and Sonic will mean employment for more than 200 area residents, although the majority of the jobs likely will be part-time. Mercer County Community Development Director Larry Stelzer said the businesses are a real "boom" for the area for several reasons.
"It's revenue for the county and that's got to be good," he said.
Stelzer said the increased business competition could be considered a downside for a few local stores but most of them have their own "niche," which will keep their customers coming back.
Having a Menards locally will help keep area residents from spending their dollars in other cities and will draw people to Celina from surrounding areas, he added.
"These stores attract people, they spend their money here, they eat here ... it's good for our economy and good overall for the people who live here," he added. "And when you have your Wal-Marts and your Menards, it's much easier to attract other industry and businesses."
When the deal is final for the outlot next to Bob Evans, only three lots will remain unfilled. Two of those are located in front of Menards and a third - 1.4237 acres next to Sonic - is a proposed plot that would include a trio of retail stores.
The former Wal-Mart building in the Lakewood Village Shopping Center across the road remains empty. Wal-Mart has a lease on that building until January 2010 and continues to search for occupants to sublease the nearly 69,000-square-foot building, according to Dan Fogleman of Wal-Mart Realty.
"We're working very hard to get renters in there," he said. "We refinish, subdivide ... we do whatever we can to get the building occupied again."
The owners of the building and adjoining strip mall - listed in real estate records as Lakewood Village Center LLC - could not be reached for comment.