Friday, May 30th, 2008
Celina sure didn't play sick
Western Brown a six-inning speed bump for Bulldogs
By Ryan Hines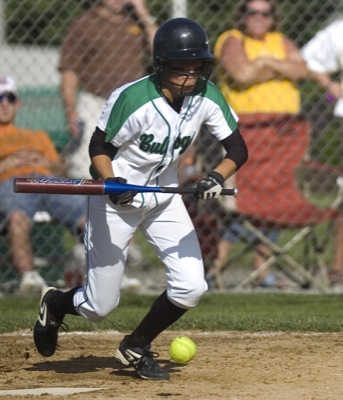 CLAYTON - Celina's battery of Laura Homan and Kinzie Gardner were sick with the flu all week long, but it didn't show in their play during the Division II regional semifinal on Thursday.
Homan and Gardner sparked Celina to a surprisingly easy 10-0 six-inning win over Mount Orab Western Brown at Northmont High School, pushing the Bulldogs to the regional final.
The Bulldogs (22-3) will return to Clayton on Saturday at noon to face Kenton Ridge (23-7), who blanked Tipp City Tippecanoe 2-0 on Wednesday.
"I was confident in what our team could do today and we did what we had to do to win," said Celina head coach Nicole Driggs. "It's a sense of relief that we won and are advancing to Saturday to face a very good Kenton Ridge team that is the real deal. We'll need another great effort from the girls like we got today to beat them. The nice thing is that I think that our schedule has gotten us ready for this point."
Celina didn't have to be great against an overmatched Western Brown (22-6) team, but it was anyways.
Western Brown head coach Blaine Wallace was hoping for a better showing from his squad, but recognized Celina as the better team during his post-game remarks.
"Celina is the better team, but I wish that we would have played the way that we are capable of playing, because I don't think that Celina is 10 runs better than us," said Wallace. "The better team won. They hit the ball up and down their lineup and we played one of our worst defensive games."
It was Homan and Gardner battling flu-like symptoms, but Wallace mush have felt nauseous at times as the opposing coach.
Homan, who admitted to vomiting earlier in the day, looked healthy on the mound with a two-hit shutout that included just one walk with 13 strikeouts.
"She's a pretty good pitcher," said Wallace. "We've seen some like her, but not many. She had a good night hitting her spots."
Driggs saw what she has seen from Homan all season, another dominating performance, despite knowing that her senior hurler wasn't feeling 100 percent.
"She's had the flu and getting sick quite a bit this week and we weren't sure if she could play or how she would play once she went out there, but it was typical Laura," said Driggs. "She went out there and gave us what she has been giving us each and every game this year. She may have lost a little speed off of her pitches with being sick, but what she lost in speed, she picked up in movement and that was big. For her to be sick and throw the way that she did, Wow!"
"I haven't had a very good week with having the flu, but I just tried to focus on the game and on my pitching so I could do what I needed to do to help my team," said Homan. "I've been drinking lots of liquids and trying to take it easy as much as possible to save all the energy that I could.
"I didn't feel very good at the beginning of the game, but I feel much better now," added Homan with a grin.
Gardner was also sick with the flu this week but was strong behind the plate defensively and added a two-hit day with three RBI.
"Laura and I have had the flu this week, but we knew that we had to do what we could do to help our team win this regional game," said Gardner. "We've worked pretty hard this year to get to this point and I think that we deserve to be where we are right now."
Both of Gardner's hits were game-changing plays for the Bulldogs. A two-run double put Celina in command of the game at 3-0 in the third inning and an RBI single ended the game with no outs in the bottom of the sixth.
Celina's 12-hit attack was spread out through the Bulldogs' batting order.
"With not knowing about how Laura would feel with being sick, we stressed to the team that we were going to have to hit all the way through the lineup and we were able to do that one-through-nine today," said Driggs. "We were aggressive and they did everything that we asked of them."
Homan, Gardner, Allison Braun and Tabitha Knous each had two hits for the Bulldogs.
The offensive explosion by Celina was unexpected considering Western Brown pitcher Shelby Kelley had won 22 games this year with a 0.96 ERA and 198 strikeouts.
Celina led 4-0 after the third inning and then put the game out of reach with a four-run fourth frame.
Western Brown showed little signs of life in the fourth inning as two Celina runs scored on one passed ball, Audrey Harner scored from second base, with another run coming home for the Bulldogs on a Broncos error.
"We had a stretch in the middle of the season where we played like this, but then we won eight straight games since that point," said Wallace. "I guess we picked a bad time to go back to playing like that. At a certain point in the game, I think that a few of our girls quit and that was disappointing."
Already leading 8-0, the first four Bulldog batters reached base in the sixth as Western Brown couldn't record an out before the mercy-rule was enforced following RBI singles from Braun and Gardner.