Thursday, June 5th, 2008
Eldora avoids rain for success in the Prelude
By Jim Morrison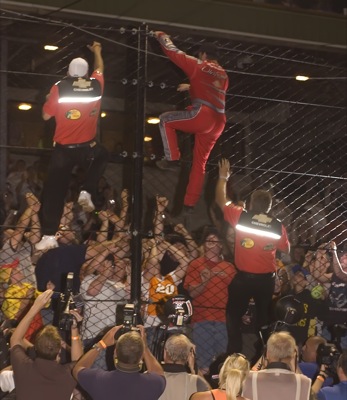 ROSSBURG - When Eldora Speedway owner Tony Stewart got out of bed on Wednesday morning, it seemed 99 percent certain the Old Spice Prelude to the Dream would be canceled after early morning thunderstorms hit northern Darke County.
Instead of even more thunderstorms as weather forecasters predicted, the skies cleared mid-afternoon and Stewart showed his racing buddies the path to victory lane was next to the outside wall to win the fourth annual charity race featuring some of the best drivers from many venues of racing.
The event raised $1 million for the Victory Junction Gang operated in memory of the late Adam Petty.
"This thing was just easy to drive," Stewart said of the new Rocket Chassis constructed for the event. "It didn't take skill on my part as the car was just that good."
Though he had a dominating performance Wednesday night, Stewart said he was embarrassed last year getting "his butt kicked" when Carl Edwards pulled into victory lane. He knew he had to perform better this year.
"I was like a lawn dart out there," said Stewart of last year's effort. "I wasn't quite sure where I was gonna be when I got to the corner."
Stewart claimed the lead on the first lap from his second row starting spot and never lost it. His car was so good that everyone else was running for second place.
Even though he easily defeated his competitors, Stewart said it was evident the competitive level from the other drivers has increased since the event was first created. The quality of cars used in the race and the abilities of drivers who rarely, if ever, raced on dirt has been honed. Their comfort level is much better.
"It doesn't surprise me but I think it surprises a lot of people," said Stewart. "I think it shows people that there is a reason these people have gotten to the level that they have got. When you see them come out here and do something they haven't done, it shows them how much talent these guys really have."
Clint Bowyer ran second much of the race until Robby Gordon dropped next to the inside wall to complete a pass for second.
The feature was interrupted seven times for caution periods, but there were no serious incidents. The interruptions slowed the pace sufficiently to lower Stewart's average speed to only 32.494 mph. It took more than 27 minutes to run 30 green flag laps.
Stewart and quick qualifier Dave Blaney exceeded 116 mph during the qualifying runs.
Robby Gordon, a veteran of NASCAR Cup racing, the Indianapolis 500 and desert off-road racing, had never raced on a dirt oval before Wednesday night. He'd never driven a dirt late model or any other kind of dirt racer prior to a practice session in Georgia a couple of weeks ago.
Gordon earned high marks from Stewart after the race, noting he believed him to be one of the most naturally talented drivers on the NASCAR Sprint Cup circuit.
"I have told him for years I thought he would be great in a dirt car," said Stewart. "His experience in off road trucks … I think he is one of the most naturally talented drivers that races each week in the Sprint Cup Series."
Stewart said he was proud of how well Gordon did and glad that Gordon had such a good time at the event. Jimmie Johnson, also making his first appearance in the Prelude, also told Stewart what an enjoyable time it was.
Scott Bloomquist, owner of Robby Gordon's car, said his driver had the ability to take the lessons being taught and to apply them while remaining calm. The dirt late model veteran with hundreds of victories in some of the biggest events in the sport said the minds of too many people begin racing and they are unable to concentrate.
During Gordon's practice session two weeks ago, Bloomquist led the NASCAR veteran around the track and then observed his progress.
Stewart admitted to being worried this morning about getting the race in today, but credited his crew for getting it accomplished. He said the combination of Larry Kemp, Larry Boos and Chad Schmittmeyer pulled it off. Stewart himself spent much of the afternoon driving equipment around the track, even missing the afternoon media function while he helped wheel-pack the racing surface.
"I am just thankful that we got it in," said Stewart.
He acknowledged that the surface was rougher than he would have liked to have for his drivers. Stewart noted a hole worked out in the entrance to turn three.
Dave Blaney was the fastest qualifier with a lap of 15.436 seconds, a new track record for the event. Tony Stewart was second quickest with a time of 15.595, Matt Kenseth third quick with a lap of 15.816, and Kevin Harvick at 15.857. Tony Stewart held the previous record for one lap in qualifying at 16.457, a record set in June of 2006.
Eight drivers timed under the 16-second mark, including Robby Gordon, despite never having raced on a dirt oval prior to Wednesday evening.
Only two minor incidents happened during qualifications. Kyle "Rowdy" Busch scrapped the wall in the apex of the third and fourth turns and scrapped off a little sheet metal while Ryan Newman's right rear tire exploded on his second lap.
Starting lineups for the heat races had the top four qualifiers starting fourth in each of the three races. That put Blaney, Stewart and Kenseth on the outside of the second row.
Heat race winners were Clint Bowyer, Stewart and Gordon.
Accidents claimed several cars during the preliminary races.
J.J. Yeley spun in the third turn during the first heat. Aric Almirola then spun his car in an attempt to avoid Yeley and subsequently was hit by Mark Martin's car. Yeley was able to continue while the cars of Almirola and Marten went to the pits for repairs.
During the second heat, Busch again scrapped his right rear quarter panel against the third-turn wall, forcing him into the pits for repairs. Kasey Kahne and Bill Elliott dropped out with mechanical problems while Jeff Gordon scrapped the wall in turn two and dropped out.
In the third heat, Ryan Newman spun and hit the backstretch wall and David Reutimann dropped out with mechanical problems.
Indianapolis 500 winner Scott Dixon had been invited to compete and initially had accepted. However, the IRL IndyCar Series had kept him on a busy schedule and Wednesday night was his only day off between winning at Indianapolis and the next IndyCar race at Texas and he opted to pass on the race.
Jeff Babcock won the Advanced Auto Parts UMP Modified feature and Jon Henry won the Moser UMP Modified feature.