Saturday, June 7th, 2008
Coldwater falls short to CCC at state
By Ryan Hines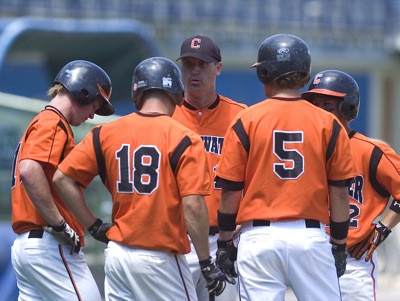 COLUMBUS - Canton Central Catholic got a big performance from Grant McCoury and it was enough to send the Crusaders into the Division III state championship baseball game.
McCoury hit a pair of two-run home runs and got the win on the mound as CCC held off Coldwater 5-4 in the Division III state semifinals on Friday afternoon at Cooper Stadium in Columbus.
The Crusaders will play Hamilton Badin (26-6) at 4 p.m. after the Rams dispensed of Wheelersburg 7-2 in the other semifinal on Friday.
Coldwater was one rally away from making its ninth state championship game appearance, but when opportunity knocked, the Cavaliers were unable to deliver.
McCoury's two-run home run in the third inning gave the Crusaders the lead at 2-1 and his second two-run blast pushed the CCC lead to 5-2 in the fifth inning.
However, CCC needed every run it could get a Coldwater had a chance in the seventh inning in its last at bat, trailing 5-4.
McCoury, over 90 pitches before strolling out to pitch the seventh, hit Chad Westgerdes to lead off the seventh and then walked Ryan Geier to put two runners on with no outs and the Cavs trailing by just one run.
CCC head coach Doug Miller elected to take his ace out of the game to bring in Taylor Baker in hopes of getting out of the jam.
Tony Harlamert made Baker's job even harder after a sacrifice bunt moved Westgerdes and Geier up to second and third, now with one out and the Cavaliers' three- and four-hole hitters coming to the plate.
Cory Klenke tried to go after the first pitch by Baker and popped it up to shallow centerfield for the second out of the inning. Keith Wenning was the Cavaliers' last chance at extending the game, but was caught looking at strike three, leaving CCC to celebrate a trip to the state finals.
"We're obviously disappointed," said Klenke. "It was a great experience and they (CCC) have a great team. We had opportunities (Friday) to shine and we weren't able to come through."
"What can you ask for when you get down to the seventh inning, with two guys on, and you have your 3 and 4 hitters up," said Coldwater coach Brian Harlamert. "In our mind, we had our best chance with our two best hitters up, with two guys on, to win or tie the game. It just didn't happen."
Baker was happy to get out of the inning.
"I went in there and my mind set was to get ahead of the batters," said Baker. "Adrenaline was a big part of it and I worked on locating my pitches and got out of the jam."
It was another feeling of disappointment after another great season for the Coldwater baseball program. Coldwater, which has won state on five different occasions, last won a state title in 1992, while losing in the state final four six times since.
"We've been down this road before, and it's disappointing, but it was two good teams competing and we had a chance to win it in the end," said Harlamert. "I'm disappointed in losing, but getting state is an accomplishment and the guys played hard until the final out. That's all you can ask for.
"We're going home one game early and one day too early," added Harlamert. "You always want to take home the gold, but I don't believe that winning a state title is the only way to have a successful season. I don't think that we are snake bit once we get to state, we have just run into some good teams. That's what happens when you get to the final four in the state. That's baseball and that's life."
Klenke, who sparkled in the first three outings of the postseason on the mound for Coldwater with a 3-0 record and 0.67 ERA, struggled on Friday. Klenke went four innings and gave up five runs, all earned, on five hits while striking out one and walking five. Klenke threw 99 pitches, 54 for strikes.
"I was all over the place," said Klenke. "I didn't throw well enough for us to win. I didn't deserve to win, that's for sure. But we battled and that's what we're all about."