Tuesday, June 10th, 2008
Storm rips through Mercer County
Winds gust to 80 mph in Grand Lake area
By Shelley Grieshop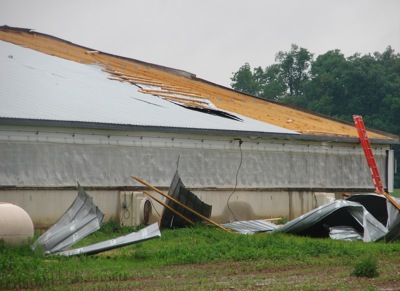 A second severe storm in less than four days brought hurricane force winds and knocked down trees and power poles across the Grand Lake area overnight Monday.
Wind gusts whipped as high as 80 mph Monday night and again put fear in area residents - some still cleaning up from Friday night's storm.
The Garrett Hellwarth family on Carmel Church Road were out doing chores early Monday evening when the sky grew dark and the wind suddenly picked up, said Garrett's mother, Nita Hellwarth, who lives less than a quarter-mile from her son's home.
"The girls (her granddaughters) were out feeding their calves. They ran for the old milkhouse to take cover," she said.
Several of the calf huts - where the girls were standing minutes earlier - were picked up by the high wind and thrown over a cement wall with the calves still inside.
The rural property now looks like a battlefield. Numerous trees were uprooted and left lying across the landscape. A neighbor's new grain bin now has a large dent and a tool shed down the road was flattened and blown across a field.
"We were lucky, everyone was OK," Hellwarth said. "But we've got a mess to clean up."
Damage reports in the area were numerous. A quonset hut filled with caged chickens blew over into a turkey pen north of Celina, killing one of the chickens, according to a family member. Many homes received minor damage to roofs and siding. Sheriff's deputies were called to an empty semitrailer at Motor Inn in Mercer, which blew over in the parking lot.
No injuries were reported across Mercer or Auglaize counties but countless roads were temporarily closed while workers removed electric poles and trees, emergency workers said. Four dispatchers manned Mercer County Central Dispatch during the storm and filled nine notebook pages with caller information, said 911 Coordinator Monte Diegel.
"We were quite busy - again," he said. "This was another fast mover."
A funnel cloud was reported by a resident in the Miller Road/Frahm Pike area in Celina but it was not substantiated by officials. However, Diegel said all damage reports are being passed to the local Emergency Management Agency and the National Weather Service for documentation.
As of 8 a.m. today, about 100 Midwest Electric customers remained without power. The company estimates that nearly 3,300 homes and businesses were affected immediately following the storm.
Dayton Power & Light crews also were kept busy. At the peak of the storm, 3,400 local customers were left in the dark. At press time today, only a few scattered locations were awaiting service, according to DP&L spokesman Tom Tatham.
Local weather forecaster Dennis Howick reported that 1.75 inches of rain fell Monday and overnight. Skies were to remain partly cloudy today with a high of 80 degrees and a welcome overnight low of 58.
Rain is not in the forecast until Friday when thunderstorms could again visit the local area, Howick said.