Wednesday, June 11th, 2008
A pair of big innings enough for St. Marys
By Gary R. Rasberry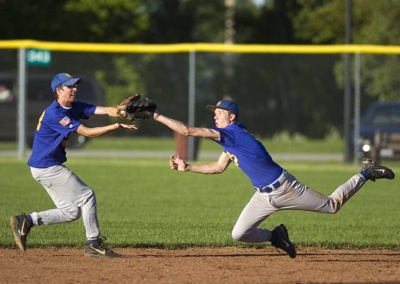 ST. MARYS - In a topsy-turvy contest, St. Marys used two five-run innings to hold off Parkway 10-7 in ACME baseball action on Tuesday at K.C. Geiger Park.
The Roughriders improve to 2-1 this summer as the Panthers drop to 1-7.
In a game that wasn't overly sharp - the teams combined for six errors and 14 walks - the Roughriders got the key hits at the right time while Parkway had plenty of opportunities - stranding 10 runners on base - but unable to get the big hit.
"We had good at-bats. We needed more clutch hits," said Parkway coach John Archer. "The guys had good at-bats, even though they didn't produce. We're working. We have a lot of young kids moving up (Parkway lost 12 players from last year's ACME season) and they're working hard at it. We're getting better. That's all I can ask."
After Parkway took a 1-0 lead in the top of the first on Levon Archer's sacrifice fly to score Grant Ripley, St. Marys plated five runs in the bottom of the inning off Panther starter Chad Shellabarger.
Jake Taylor tied the game, coming home when a throw to second on a steal attempt ended up in centerfield. Dustin Spaulding broke the tie with a two-run single, which was followed by a two-run double by Mitch Knous to make it 5-1.
The Panthers scraped their way back into the game, scoring twice in the third, then getting a two-run homer by Archer in the fourth to tie the game.
Shellabarger, who retired nine straight from the end of the first to the fourth, ran into trouble in the fifth as St. Marys took the lead for good. Cody Martin drove in pinch-runner Keith Perry with a single to break the tie. Martin later scored on a Spaulding double. After Knous reached on an error, Tyler Miller drove both runners in with a double of his own, later scoring on Taylor's single.
"The bottom (of the order) really came through," said St. Marys coach Russ Taylor, speaking of the fact that batters six-through-nine combined to go 5-for-13 with seven RBI. "We changed the lineup around a little bit tonight. The kids really came through when they needed to."
"We just have to make plays," said coach Archer. "We can't keep playing from behind. We've got to make plays and get it done."
Aaron Homan entered in the fourth to relieve Derek Roop, who walked seven and allowed four hits in three-plus innings, and was able to slow down the Panthers. After allowing Archer's homer in the fourth, Homan worked out of jams in the last three innings, allowing just two more runs, but closing things out in the seventh as the Panthers had the bases loaded twice, but with only one run to show for it. Homan struck out Ripley with the bases loaded to end the game.
"Aaron is our top reliever. When we get into trouble, he's the one we go to," said coach Taylor of Homan, who struck out six to get the win. "He does a nice job. He made some big pitches that last inning."
Spaulding paced the Roughriders with a 2-for-4 game with two runs scored and three RBI. Knous and Miller each drove in two runs.
Archer was 2-for-3 with four RBI thanks to the home run. Jake Jackson added a 2-for-3 game.
Both teams are in county ACME circuit action tonight. St. Marys hosts Wapakoneta, while Parkway heads to Coldwater as the Cavaliers officially open the ACME season with a 7 p.m. contest.