Thursday, June 19th, 2008
First inning, Taylor carry St. Marys
By Mark Ruschau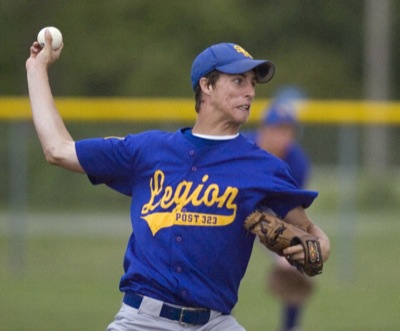 ST. MARYS - The St. Marys ACME baseball team used a big offensive first inning and a pitching gem from senior-to-be Jake Taylor to defeat the New Bremen Cardinals 4-1 Wednesday night at K.C. Geiger Park.
St. Marys (5-2) bunched more then half of the hits that it got to produce its only runs in the bottom of the first off New Bremen starter Dylan Crisp.
Aaron Homan led off the frame with a double to the base of the fence in rightfield. After a walk to Taylor, Trevor Kill hit another laser to the fence in right for another double to make the score 2-0.
After Mitch Knous reached on an error and Matt Watkins walked to load the bases. Crisp struck out Cody Martin for the first out only to have Sam Manning single to left to make the score 3-0. After Paul Pfenning popped out for the second out, Tyler Miller, the number-nine hitter in the order produced the final run of the inning with a single to center.
After the first inning, Crisp did a good job of shutting down the St. Marys offense as he allowed just three hits in pitching six shutout innings the rest of the way.
"Indeed we had a big first inning offensively," said St. Marys coach Russell Taylor. "We talked when we got to the park tonight that we wanted to start off early offensively, I just did not expect it to end as quickly as it did. We wanted to get out early, score some runs and set the tone early."
"The first inning was tough for Dylan, but other than that, I thought he pitched pretty well," commented New Bremen coach Mark Keller. "Taylor pitched a good game, he is a tough pitcher."
The first inning offensive explosion by his teammates was all that Taylor needed as he allowed just one run, scattering eight hits. Taylor allowed just one walk and struck out five.
Taylor had just one major jam to work out of and that came in the fourth when New Bremen scored its only run. With one out, Caleb Cox walked and Hank Zweip beat out an infield hit. After Adam Meyer reached on a fielder's choice to load the bases, Brice Imwalle hit a slow roller to short that ended in a fielder's choice at second, with Cox scoring. Taylor got out of the inning by getting Zach Siegel on strikes.
The St. Marys defense was solid behind Taylor as they did not commit an error while also coming up with a couple big defensive plays.
In the first inning, Pfenning crashed into the fence to catch a foul ball from third base position to save a run. In the sixth with a runner on first, Tyler Miller made a running over-the-shoulder catch in centerfield. Later in the sixth, catcher Matt Watkins made a big play picking off Caleb Cox at second to end the inning.
"Jake's pitching performance was outstanding tonight," said coach Taylor. "He got ahead in the count and worked ahead in the count and that is a key for him. He had a couple of rough outings and a couple that were okay, tonight was a big step for him in the right direction.
"One thing that we have been emphasizing the past few games is following things through and I thought we did that tonight," continued Taylor. "The defense came up big tonight, we hit the cut-off men, made the right throws to the right bases and that is a big thing."