Monday, June 2nd, 2008
Parkway falls one step short of state tourney
By Gary R. Rasberry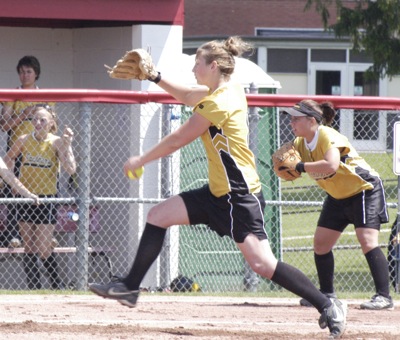 HUBER HEIGHTS - The run to state ended for the Parkway Panthers on Saturday as Triad ended the Panthers' season with a 5-0 decision at Wayne High School in Huber Heights in the Division IV Regional Championship game.
The Cardinals (20-9) capture their third straight regional title and will look for their first state title after being the runner-up the last two seasons. Triad will play on Thursday at 12:30 p.m. against Kent Regional winner Warren JFK (20-4), who beat Windham 12-0 on Saturday. Parkway ends its season at 18-7 with the loss.
Panther ace Emily Crowell and Triad starter Morgan Ryan did their best to shut down the opposing offenses.
Ryan had some trouble with walks, three in the first two innings, but was able to get out of some jams with some solid pitching. In the first inning, Parkway had two runners on with two outs but Courtney Davis hit a liner right to Cardinal third baseman Hana May to end the inning. In the second, Theah Bourelle led off with a walk, but Ryan got three straight outs to end another jam.
"When you get them on, you have to figure a way to get them in," said Parkway coach Mark Esselstein. "I thought whoever got on the board first would have the advantage. We just couldn't come up with the big hit when we needed it, but their pitcher's tough."
Crowell gave up a walk and a hit in the first two innings, but was able to leave them stranded going into the bottom of the third.
Triad started the third with a bit of a scare when Ryan was hit on her pitching hand with a pitch, causing her noticeable pain. Dixon brought in Sami Nawman as a courtesy runner to give Ryan time to recover.
Her Cardinal teammates gave her perfect reason for a rapid recovery as Kristen Cooney singled to put two on with one out. Chelsie Brooks followed with a single to right-center to score Nawman for the opening run. Amy Ropp followed with a deep-enough fly to center to allow Cooney to tag up from third and score the second run of the game. May followed with a single to make it 3-0 as courtesy runner Kerri Hunt scored.
From that point on, Ryan was in control and showed no signs of her hand bothering her. Parkway managed a walk and a single in the fourth and a single by Lindsey Shellabarger to start the fifth, but Ryan proceeded to retire the last nine batters in order to come away with the win.
"She focused well. She came back and threw hard," said Triad coach Shari Dixon. "She didn't lose concentration. Great job by her."
Crowell was solid, although she gave up two more runs in the fifth on an RBI double by Brooks and another sacrifice fly by Ropp. Crowell struck out seven and walked just two in throwing the five-hitter.
"She threw well," said Dixon of the Panther freshman pitcher. "I think both pitchers threw well. I think it was a very tight strike zone today."
Brooks and May each went 2-for-3.
"Since middle-April, we really put things together well," said Esselstein. "We had a tough loss to Marion Local and the kids really rededicated themselves. Concentration, effort and hustle just picked way up and they responded just in a great way to give us the opportunity to play in a regional final. I just can't be more proud of them. I don't think I had a team that grew up as much during one season as this one did. I hate it for the seniors that we couldn't be playing in Akron next week, but they did a great job of leading us."