Monday, June 23rd, 2008
Walking God's highway
Pilgrim makes stops in Grand Lake area
By Shelley Grieshop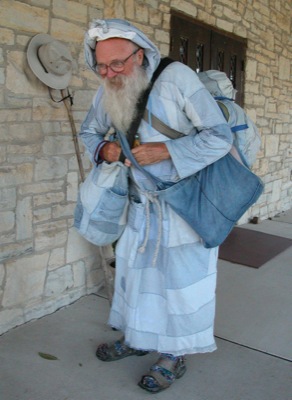 MARIA STEIN - International walker George Walter relaxes on a flimsy lawn chair outside the Spiritual Center retreat house Thursday.
The cozy bed he was offered at the center Wednesday night should have seemed like a welcome haven for a 66-year-old man who walks nearly 10 miles each day. But for "Pilgrim George," as he is called, the accommodations were a bit too comfortable. He opted for the floor.
Walter is more accustomed to laying his head on the hard ground and curling up inside the 4-by-7-foot tent he pitches in fields and woods.
"I've been walking since 1970," he says, as he begins the story he has told the curious for almost four decades.
His pilgrimage began after 12 years of studying to become a Catholic priest in Cincinnati.
"I finished the seminary in '67 and was ordained a deacon, but I couldn't ask for priesthood," he says, his overgrown mustache touching the top of his foot-long gray beard. "I told the bishop my faith was weak and he told me to take a year off to pray about it."
During a trip that year to Boulder, Colo., he had an epiphany of sorts.
"It was the first time God was real to me," he says. "This message came from my head to my heart: I belong to him and I had to get home."
That is when he got the idea to walk 4,000 miles from Barcelona to the Holy land of Jerusalem where Jesus had walked. It took Walter a year but taught him his purpose in life, he says.
A Pittsburgh, Pa., native, he spends May through September each year walking the countryside, mostly praying, clutching rosary beads and a prayer rope. He can say the Hail Mary in 20 different languages, he says.
This past weekend, he spoke at several Masses in Fort Recovery on his way to Indiana. Then he will walk to Kentucky, back through Ohio on to West Virginia and Pennsylvania.
An ordained deacon, he's not an evangelist and doesn't solicit money or anything else from anyone. He rarely has more than a few bucks in his pocket at any given time and lives on the kindness of strangers he meets along the way.
His unusual clothing - a head-to-toe patchwork robe that he handstitched with denim remnants from all over the world - draws plenty of attention. Because he wears it every day, it periodically needs patched. He quickly shows a new addition to the cuff on his right sleeve, a remnant given to him several days ago by a young girl in Rockford.
He points to the three homemade bags he carries with him - also stitched together with denim. "I have a matching set," he adds with a grin. He travels light for obvious reason, his worldly possessions slung across his back. Inside are his tent, sleeping bag, maps, water bottle, toothbrush, toothpaste and soap. The only electronics he owns is his watch.
Besides his 45 pounds of luggage, he also carries a staff made from wood found near a cave on Mount Carmel in Israel. The giant rod is notched at the top with a wooden San Damiano crucifix.
Shoe companies might take note of the sturdy sandals that have protected Walter's feet from the hot asphalt for 15 years. He cut them from the rubber tread of tires he found along the open road in Alaska in 1993. To keep them from slipping off his feet, he uses tie-down straps that he bolted to the rubber.
"I've got 25,000 miles on them," he says, adding he applies new tread to the heels every 3,000 miles or so.
His socks are a colorful mass of yarn tidbits that he crafted together eight years ago and continues to sew on as they become worn.
He doesn't carry a razor and has never been to a barber. He trims his own hair twice a year - before and after each pilgrimage. He bathes in creeks and other waterways where he can find privacy and doesn't wear deodorant.
Late last week, an area resident picked him up along state Route 119 and brought him to Neal and Karen Romer's catering/entertainment business in St. Henry, where he gratefully accepted a meal.
"It was like Moses himself walked in," Karen Romer says of Walter's appearance.
She was shocked at the heavy robe he wore as he walked in the hot sun but more impressed with his intelligence and wit.
"He went over to South Park to meditate then to our church," she says. "He said as he walked he would pray for us."
Walter's parents are deceased and he has two younger brothers in Pennsylvania and New York that he sees once in a while at Christmas, he says.
"My family is the family of God ... they are all over the world," he says in a kind, soft-spoken voice.
During the colder seven months of the year he becomes a hermit, living wherever he can, praying and replying to e-mails from friends he's made along the way. He shuns television and radio.
His annual trek on foot is often vaguely planned but sometimes purposely takes him near holy shrines. He often doesn't know where he'll stay or how he'll get food but he doesn't worry. This is his calling and his way of serving the Lord, he says.
"I promised the Lord I would keep walking until he comes back or takes me home, whichever comes first," he says, before waving good-bye to his new friends in Maria Stein and heading down St. Johns Road.