Tuesday, June 24th, 2008
St. Henry offense has a big day
By Gary R. Rasberry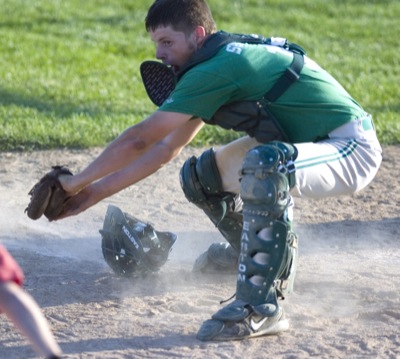 ST. HENRY - St. Henry used a six-run outburst in the third inning to pull away and run-rule Celina 12-2 in five innings in Mercer County ACME circuit action on Monday at the Wally Post Athletic Complex.
Just a few days after being no-hit by Coldwater pitcher Keith Wenning, the Redskins belted 12 hits and benefited from four Celina errors, two coming in the third inning when St. Henry batted around.
"This is probably our best offensive game of the year," said St. Henry assistant coach Jim Wourms. "It's good to put some clutch hits together when we needed them. We had trouble doing that earlier in the year."
After Celina scored in the top of the first when Darin Waterman singled in Kahl Knapke, the Redskins went to work. Jason Westgerdes led off by reaching on an error, and after stealing second, scored on Jordan Post's double. Post later came home on a two-out double by Nick Rindler to put the Redskins up for good.
St. Henry scored three more in the second, two coming in on Post's triple with Nick Bruns bringing in Post with a single.
The floodgates opened in the third as St. Henry sent 10 to the plate against Waterman, who balked in one run and saw another run come in on a throwing error off a steal attempt. Bruns added two more RBI with a two-run single and Brad Kremer blooped a single that fell just to the first-base side of the mound, allowing Bruns to sprint from second for the final run of the inning.
Celina coach Rob Howell didn't mince any words after the game.
"We didn't come mentally prepared to play, period," said Howell. "They were, we weren't all the way around. When you come out to play this game every day, you have to be mentally tough and mentally prepared, which we were not. Lot of that lies in the coaching box and I'll take responsibility for that. However, when it's time to make the play, you've got to make the play."
Meanwhile, Westgerdes cooled down Celina's offense after the first inning, not allowing another base hit until the fifth when Caleb Shreves doubled. Westgerdes walked four, but struck out six, with Celina's other run coming when Hayden Heiby scored on a Brian Brockly sacrifice fly in the fourth inning.
St. Henry got back to a 10-run lead in the bottom of the fourth when Jason Wourms scored on a Westgerdes single, triggering the run rule after Westgerdes struck out the final two batters in the top of the fifth.
"Jason pitched a great game for us. That was good to see," said Wourms. "That's two good pitching outings in a row (Chad Siefring scattered six hits in Friday's loss to Coldwater). We put everything together tonight and it was just a good game."
Westgerdes helped himself at the plate, going 3-for-4 with three runs scored. Post went 2-for-3 with three RBI with Bruns adding a 2-for-3 game with three RBI.
St. Henry is back home tonight as St. Marys comes to town for a 6:30 p.m. game. Celina returns home Wednesday as Marion Local comes to town for what is now a doubleheader starting at 6 p.m.