Wednesday, June 25th, 2008
ACME powers split doubleheader
By Gary R. Rasberry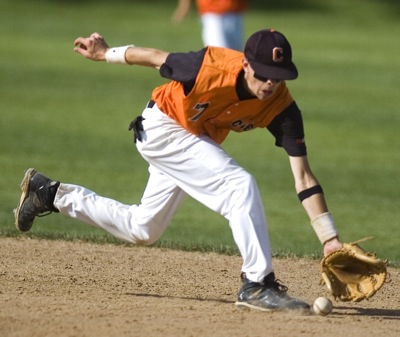 COLDWATER - Two of the perennial powers in ACME met up on Tuesday for a doubleheader.
In Game One, Coldwater used a five-run third and solid relief pitching from Alex Geier to defeat Defiance 7-3.
In the nightcap, Defiance, the two-time defending state ACME champions, took advantage of a depleted Coldwater pitching staff, winning 16-5 in five innings to get the split.
Defiance is now 13-7 on the season and Coldwater goes to 10-3 on the summer.
Coldwater 7, Defiance 3
In the first game, the Bulldogs scored three times off Cavalier starter Colin Paynter in the top of the third. Jacob Moser got Ethan Rohlf in with a fielder's choice, followed by a single by Alex Nofzinger to score Dakota Westrick and a sacrifice fly by Mark Sebring to bring in Moser.
The Cavaliers responded quickly, plating five in the bottom of the inning. Nofzinger loaded the bases with Alex Winner reaching on an error, Alex Kramer singling and Chad Westgerdes reaching on the bunt single. Winner scored as Geier reached on a fielder's choice. Keith Wenning walked to load the bases for Ross Forsthoefel, who also drew a walk to bring in Kramer. Briar Miller singled in Geier to tie the game, with Adam Rammel bringing Wenning home with another fielder's choice. Rammel went to second trying to draw a throw to set up the double steal, reaching safely as the ball went into the outfield to allow Forsthoefel to score making it 5-3.
Paynter settled down and got through the fourth. In the fifth, Wenning got two outs, but had the bases loaded with Ryan Cordray at bat. Coldwater coach Romie Schwieterman wasted no time in calling on closer Geier, who got Cordray to ground into a fielder's choice to end the inning.
"Colin's getting a little better every time out against some of these guys," said Schwieterman. "We'll need those guys at the end of the summer and needed in the future. It was great to see."
Coldwater promptly gave Geier a bigger cushion with two runs in the bottom of the fifth. Rammel laid down a perfect squeeze bunt as Miller came sprinting home. Later Jordan Woeste scored on a single by Winner.
"Great timing with the squeeze," said Schwieterman. "Good timing on leaving (third). Leave too early and you can get your hitter roughed up because that pitch will come up and in."
Geier took care of business in the final two innings, but gave fans a scare when Dace Kime ricocheted a grounder off Geier's leg and right to Kramer for the unique 1-4-3 putout to win the game. Geier hopped off the field and iced his leg in sitting out game two.
"Nut comes in and does a pretty good job," said Schwieterman, referring to Geier by his nickname.
Miller went 2-for-2 and Adam Rammel drove in two runs.
Defiance 16, Coldwater 5 (5 innings)
In the nightcap, the Bulldogs put the game away early with five runs in the third and fourth innings.
Coldwater, running out of pitching, went with five pitchers to get through the five innings, several seeing mound time for the first time in a while.
"We had three guys in there that haven't pitched since Lincoln was in office," said Schwieterman. "I told them later that Defiance is not one of those teams we'll double-up on (play a doubleheader). We'll just put that in the ancient history file and come out tomorrow and be ready for Parkway."
Nofzinger went 4-for-4 with four runs scored. Sebring, who came in to pitch when Corbin Stykemain got into a bases-loaded jam with two outs in the bottom of the first to get the win, went 3-for-3 with four runs and four RBI.
Coldwater travels to Rockford tonight to face Parkway in a key county circuit game that has seeding implications before ending the county schedule on Friday in hosting a doubleheader with Fort Recovery starting at 6 p.m.